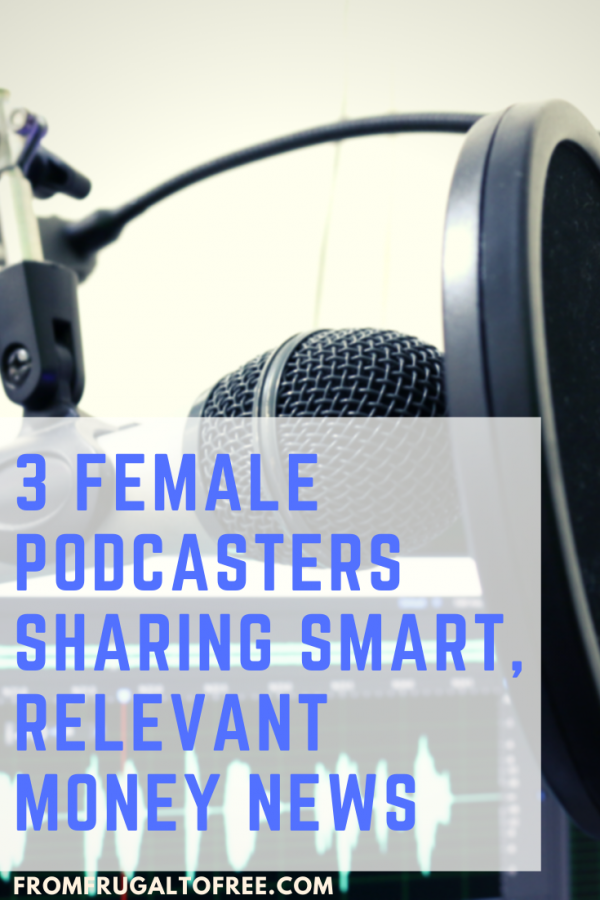 I started listening to a lot of podcasts in the past year or so. I tend to like long-form podcasts, but there are also some great ones out there that offer quick tips. Although I listen to all different types of money podcasts, I find myself especially drawn to smart female podcasters. Here are three of my favorites who share money news that is current, relevant, fascinating, inspiring, and helpful:
1. Jill Schlesinger of Jill on Money
Jill Schlesinger is a CBS business analyst. She is also the author of a book titled The Dumb Things Smart People Do with Their Money: Thirteen Ways to Right Your Financial Wrongs. Her podcast, Jill on Money, is filled with succinct episodes that cut straight to the financial point without a lot of confusion.
The episodes are usually around ten minutes long, although they range from 8-18 minutes for recent episodes. When she has more information to share, she'll separate the episode into two parts. For example, I recently enjoyed the two-part episode of "Coronavirus: Stay the Course." It discusses the fluctuating market and how that can be risky, but also potentially good, for financial investments.
In addition to relevant money news, Jill uses her podcast to quickly and savvily answer personal finance questions. Recent episodes include:
Why Use Bonds?
Where to Invest Cash?
Is My Pension Safe?
Lump-Sum or Annuity
ETF vs Index Fund
Do I Need a Trust?
Right now everyone wants to know how their personal finance decisions are impacted by market changes caused by the COVID-19 pandemic. Jill addresses this across each of these topics (and more.)
2. Bad with Money with Gaby Dunn
Novelist, activist, and comedian Gaby Dunn brings a perspective to money news that I find lacking elsewhere. She combines an avid interest in social justice with an awareness that politics, culture, and money all intersect. She challenges the things happening in money in the world today.
For example, I loved the recent Bad with Money episode "Being Sold a Better You During COVID-19." She speaks with linguist Amanda Montell about how brands and businesses have quickly changed their language to market to our fears about coronavirus. This isn't the first time she's discussed the concept of "buying a better you" (or how the market tries to sell you things you don't need to make you "better" which inherently implies that you are not already good enough." For example, the two episodes previous to this one were Buying a Healthy Mind and Buying Perfect Skin.
That's not the only topic she addresses though. Recent episodes (which generally run 30-50 minutes long) include:
Giving a Damn with California Rep. Mark Takano (What is the Government Doing for Us Now?)
Rocket to the Moon (Space and Its Economy)
Let's Move to Paris! (The cost of the City of Love)
Cost of Being LGBTQ or Black Abroad
3. The Rachel Cruze Show
Rachel Cruze, Dave Ramsey's daughter and also co-author of a money book with him, has a really personable approach to sharing money news. She addresses immediate and relevant issues. However, she does so through the lens of relationships. She shares a lot of helpful tips about dealing with money in marriage and family life. She also provides insight into your own mental health/ wellness/ thought process around money.
Recent episodes, which average 20-40 minutes although some are as short as 14 minutes and others near an hour in length, include:
5 Ways to Live a Financially Healthy Life
How to Overcome Fear in Your Money and Your Marriage
How to Raise Good Kids Without Breaking the Bank
Quarantine Life: What to Do About Kids, Celebrations, and "Free" Money
What the American Dream is Costing You
Read More:
Who is your favorite money podcaster? Share in the comments so I can check them out!
(Visited 43 times, 1 visits today)