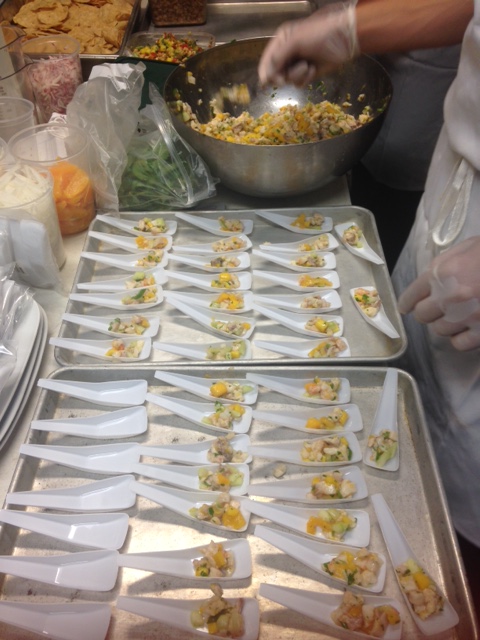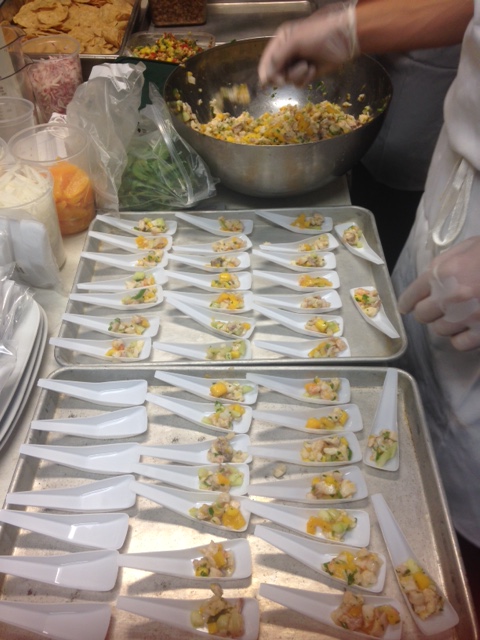 Preparing appetizers
I think I have always worked more than one job. When I was in high school I babysat and worked as a waitress in a retirement home. (no tips but $8 an hour made me feel rich!) In college I worked at the box office selling tickets, as a cashier and shelf stocker at a grocery store and as a barista at a coffee shop. I've never made enough at one job to only have one job. So a side hustle has always been the norm for me.
My most regular side hustle these days is my catering gig. The work is steady, the pay is pretty good and the benefits are numerous.
This October will mark two years that I've been catering. Over that time period I've gone through periods where I cater ALL THE TIME and periods where I can take some time off. Generally I cater between three and six times a month though. The summer is always slow but the rest of the year there is plenty of work. Weddings and corportate events make up the bulk of our business but we do things like private parties, wakes, family gatherings, and show business events. People gotta eat!
Catering has been a huge part of helping me live frugally. Not only do I earn money while I'm at work but I have found a few benefits to this side hustle that save me lots of cash.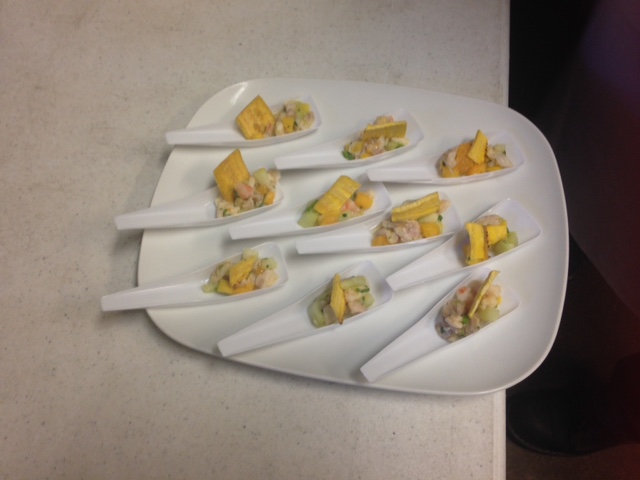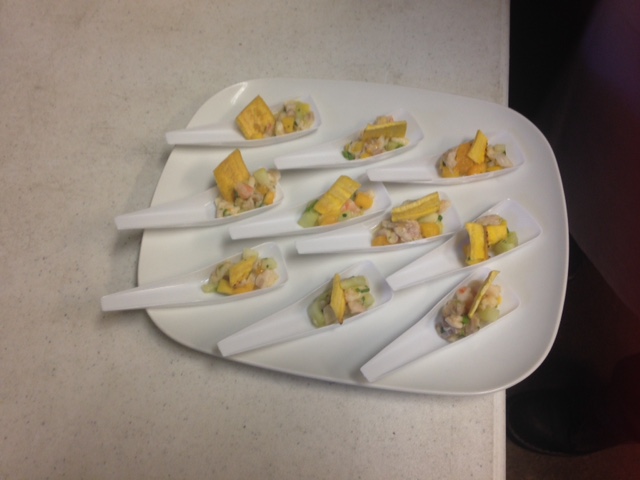 The finished app: white fish and mango ceviche!
1) Leftovers. I take home all sorts of food regularly from catering. It's by far the biggest benefit to this gig. Since the food at each event varies what I take home also varies. This week I got fruit, chicken, corn salsa, plantain chips and some beef. It's enough food to last me several days, cutting down on my monthly grocery bill. It's also some expensive stuff! I don't eat red meat but my roommates and boyfriend do. Meat can get very pricey at the grocery store but tat his side hustle I get it for free!
Catering leftovers have saved me literally thousands of dollars on food. In February I was able to live solely off of catering leftovers and what was in my pantry. I'm also against food waste so taking home the food rather than seeing it tossed into the trash makes my heart happy.
2) Swag. This doesn't always happen but when it does it's great! Usually during SXSW is when I can cash in the most on free swag. I've gotten sunglasses, t-shirts, water bottles, canvas tote bags and things I can't even remember from catering gigs. Most promotional events have swag for the guests. At the end of the event it's easier for the coordinator to unload any extra stuff they have onto the catering staff than to load it up and have to ship it somewhere.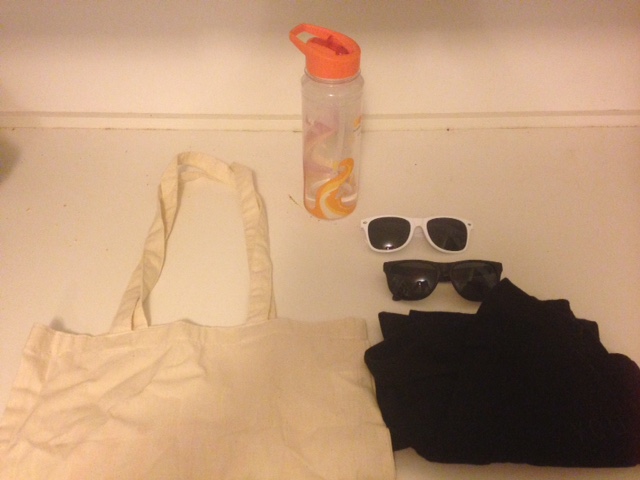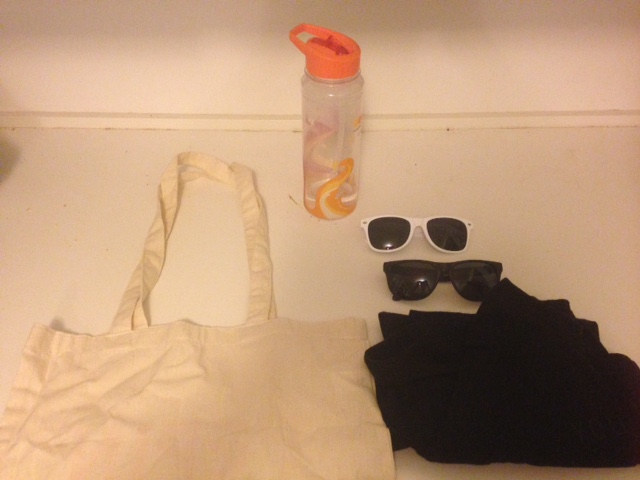 Some swag I've gotten: black t-shirt, sunglasses, tote bag and water bottle
3) Time with Friends. Three of my good friends also work at the catering company with me and that means that work turns into more of a hang out a lot of the time. I mean yes, we're still hauling boxes of food and dirty plates around, but at least we're in good company! I really like the fact that I work with good friends. We all have busy schedules and sometimes I can go for weeks without seeing them outside of work. It's so great that I'm almost guaranteed to see them once a week at work. We can catch up and not spend any money to be together. In fact, we're earning money!
4) Hourly Pay. I've worked in the food service industry for four years, both for tips and for hourly pay. Let me tell you hourly is the way to go. Yes, there is a chance that you can make huge money when working for tips. The sky is the limit there. I've personally  found that working for tips generally leads to less money and is way more unstable. I hate depending on other people's attitudes and beliefs for my paycheck. Hourly wages can be lower but it's steady and no one can take it from you. There's the option of working more hours if you need more money too.
Catering usually happens on the weekends so in order to reap these benefits I have to give up my Saturday or Sunday. (Sometimes both!) I don't love the work. It's hard, physically demanding and the hours can suck. Sometimes I have to drive an hour to get to an event, work until 12 or 1am and then drive an hour home. It's exhausting work.
However, as far as side hustles go, this is one I'll be holding onto for at least a bit longer. Fall always gets busier and holiday season means good tips. I've set some financial goals for myself for the rest of the year and catering is a big part of me reaching those goals. Right now I still depend pretty heavily on this side hustle income so it's not going anywhere.
(Visited 146 times, 1 visits today)

Kara Perez is the original founder of From Frugal To Free. She is a money expert, speaker and founder of Bravely Go, a feminist financial education company. Her work has been featured on NPR, Business Insider, Forbes, and Elite Daily.