There are many advantages to working from home. Some of those advantages include the ability of setting up your schedule, the advantage of not working under anybody's supervision and being able to save money and time by not travelling to and from office.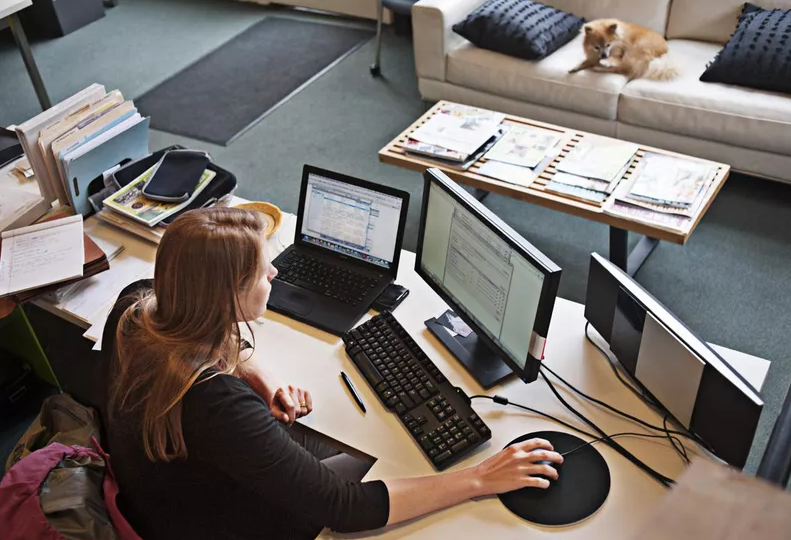 One thing due to which you would be able to work from home more efficiently is by creating a space in your home what would promote productivity. It is also essential because that would separate your work life from your personal life. Bestessayhelp.com knows how to do it properly:
You should create a list of things you would require
One of the most important things before setting up your workspace is to find out the things that you would require to work from home. It would depend largely on your profession. If you are a graphic designer, you might need a small desk for your desktop or laptop, and a larger table for placing your artwork. If you are a photographer, you would require an in-home studio, as well as a large space for storing all your lighting equipment. Most of these common items can be purchased at local retail shops like staples.
It would help if you claimed a specific area in your home for work
If you are working from home, you would need a space that is quiet and is separate from the rest of the house. It is an important point to consider if you are not living alone. Even if you are living alone, you might want to sit close to the main door of your house, so that you can meet your clients if they come for a visit. Furthermore, if you telecommute, your employer might want you to set your office up in a room that can be closed for reasons of confidentiality. If you need a flexible office space outside the home, check out Champion Office Suites for some great options.
You should set up your office where there is plenty of light
Do not set up your office in the basement or a room in which there are no windows or natural light. Warm light would help you relax while working while cold light would keep you alert. Moreover, if you keep the plant in your home office, that would be even better because the research has shown that keeping plants in the office promotes your well-being, mental health and the overall productivity level.  
It would help if you kept a phone specially for work
This point is important, because although initially, you might think about sharing a phone line between your home and office, later, you will see its problems. Some of those problems include an unprofessional share voicemail that can confuse the clients, a client's phone answered by a child by mistake etc. To maintain the boundaries between your work life and personal life, get a phone line that is dedicated to your home office. You can also get a VoIP, which is an internet-based phone. 
You should keep your gadget away
This problem is quite common since you do not have any boss or supervisor to check on you after every few hours. Therefore, you might end up using the gadgets. The best solution is to keep your gadget away from your home office while you are working. Using your mobile phone during your work hours would decrease your productivity level. You will likely not get back the time that you have wasted, and that would affect your work because you are self-employed. After all, if your client does not like your work, you might not be able to work for that client again. 
You should keep track of your time
People who are working from home are more likely to overwork. It is because they do not have a boss or a supervisor to tell them to go home. Therefore, you must keep track of time while you are working from home as overworking can affect your mental health, and that is not something that you should compromise on while working from home. 
Thus, you can easily set up your own office by following the above steps. Once your office is set, you will be able to work from home efficiently. 
(Visited 26 times, 1 visits today)