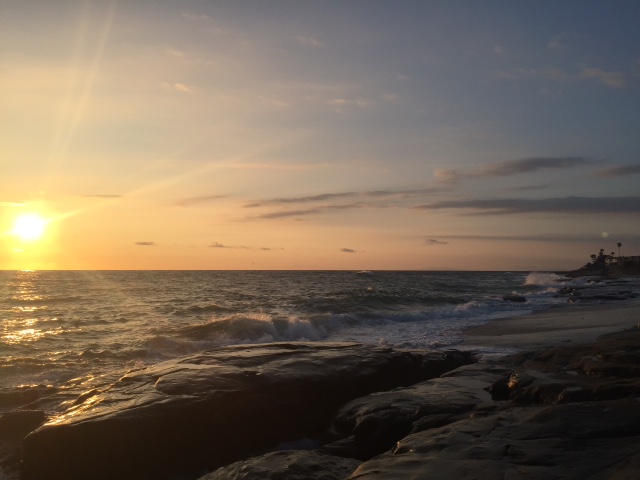 Well, after months of waiting my trip to San Diego has come and gone! I saw friends, I saw a seal and I saw just the tiniest bit of sunshine. While California is suffering from a terrible drought, my friends and I caught what will probably be the only rainy couple of days for the next month. The highest it got was about 67 and it was either drizzling or overcast for most of the trip. But, it was lovely to be away from Austin and work for a few days and there was no humidity. =)
I spent Wednesday-Saturday of last week in San Diego. My trip signaled the end of my coaching season and the beginning of a new work schedule for my remaining three jobs. To be completely honest, after the work schedule I've been keeping the last few months, I was feeling more burned out than excited for the trip. I was looking at it as one more thing I had to check off the list. I boarded the plane feeling kind of excited and kind of exhausted.
I was the first one to arrive by hours so after I landed I took an Uber to our rental house in La Jolla. If my friends arrived at the same time, we could have used an alternative to Uber such as: https://www.limofind.com/ca/riverside-party-bus-rental/.
I walked about the neighborhood, scoped out the beach at the end of our street and bought myself some mac and cheese. It was about 65 degrees and the sun was out on Wednesday, but it wasn't the southern California you see in the movies. I can't lie- I was a little disappointed with the weather throughout the whole trip. It's been raining in Austin for most of May (which we desperately need) and of course I know California needs the rain as well. I just wanted to get out of it for a hot minute.
Anyway, my friends arrived later that night and it was great to see them all. We haven't been able to spend a chunk of time together as adults ever before really, so this long weekend was a totally new experience. We all do everything differently- from eating, shopping, and relaxing to speaking and moving. It was eye opening! I've known these women since we were 16 and now we're all in our mid to late 20's. We're not high schoolers anymore, getting together after school or college students hitting the town hard on a weekend. We're all adults, grown-ups, real people with real lives.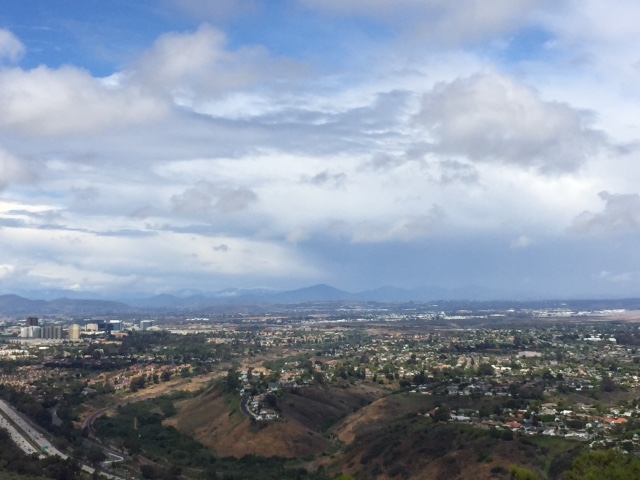 View of SD from Mt. Soledad
I was glad to see them and catch up on their lives. I was glad to get out of Texas. I was SO glad to see and get in the ocean (even though it was chilly!) I was also really pleased to get out of the trip for just around the amount of money I had planned for it. No unexpected surprises!
Here's my cost breakdown:
Housing: $136.74
Food (groceries and one restaurant meal): $83
Uber ride (1): $28
Plane Ticket: $260
Airport snack: $5
Total: $512.74
A trip for that amount is pretty great anyway but I also got $210 back in credit card rewards. So my total cost for the trip was $302.74! I'm really happy with that number.
A huge help was grocery shopping. Not only are groceries way cheaper than eating out every meal but we split the cost between 8 people. AND, the biggest food bonus was that we shopped at a grocery store called Vonn's. It's one of those places that offers a discount to people who sign up for a store card. We signed up for one and saw our grocery bill drop from $385 to $298! Without that card my trip would have cost me a bunch more.
I kind of wish the trip had been made in July, when I am totally debt free. Being so close to the finish line made me even more hyper aware of the money I was spending. Also knowing that my income has decreased by $600 this month and will drop an additional $500 next month (down $1100 total) had me a little on edge.
While my friends do love and support me, I don't think they realized 1) how little money I actually make and 2) just how little money I spend in order to make huge dents on my loans. It's one thing to see in a text "I'm down another $2,000!" It's another thing entirely to see where I squeeze that money from in action. Not ordering a drink when we go out to eat, wanting to walk instead of drive, getting the off brand groceries- these are things most of my friends don't do. Little things that add up to savings in my book aren't even thoughts they have, because their money priorities are different. It wasn't a problem by any means but I think it was one of those eye opening differences between us.
Overall, the trip was a success. I met my budget goals, I saw my friends and I took a picture with a seal. What more can a girl ask for?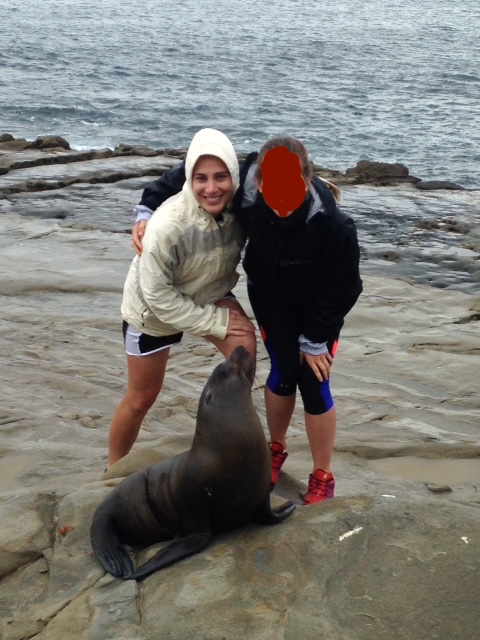 Friends, seals and ocean.
(Visited 254 times, 1 visits today)

Kara Perez is the original founder of From Frugal To Free. She is a money expert, speaker and founder of Bravely Go, a feminist financial education company. Her work has been featured on NPR, Business Insider, Forbes, and Elite Daily.