Founders build startups hoping that they flourish and add value to clients' lives and make profits, but many fail. According to a Harvard Business School report, startups have a 30 to 40 percent chance of being liquidated, 70 to 80 percent of failing to get returns on investments, and 90 to 95 percent of failing to meet the initial financial projections. But there are few common factors that make some startups grow and become financially successful.
Social Media Use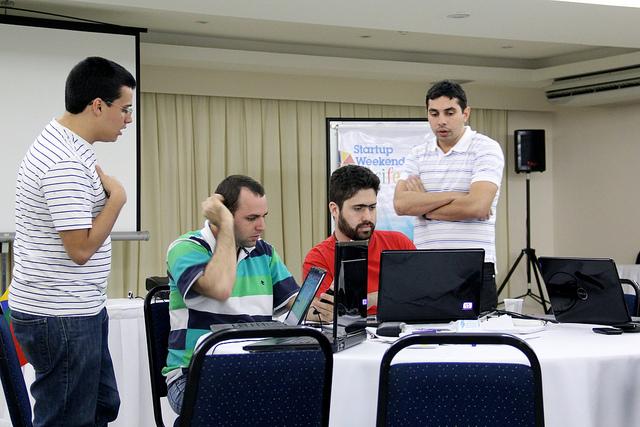 Image via Flickr by Lailson Bandeira
Business utilization of popular social media sites like Twitter and Facebook is helping startups to get noticed by venture capitalists (VC). A 2017 study done by business professors from Indiana University, Harvard Business School, and the University of Pennsylvania, reports that VCs are actively conducting social media due diligence, and in some cases funding startups with vibrant social media presence. Boxtera, a health food startup, got funded by Vandaele Capital LLC because of its effective use of Twitter to engage with potential customers.
Branding
Consumers connect well with startups that have consistent messages and whose names evoke positive emotions. A well-executed branding strategy distinguishes a startup from competitors by proving it offers better solutions to problems, thereby increasing sales. Established companies are also adopting some viral strategies to increase product sales. In 2017, Kellogg employed a startup strategy which encouraged consumers go online to choose their favorite ingredients to make their own customized granola combinations. This successful ploy resulted in sales increasing by a remarkable 230 percent.
Financial Literacy
Startups with financially literate founders are more likely to survive than those with founders who are not as knowledgeable. A study by Start Up Canada shows that only 25 percent of its citizens have high financial literacy scores, which results in a higher rate of business failures. Entrepreneurs with financial experience are more likely to run competitive and stable startups than novices. To ensure success, founders need to be able to track expenses, economize when needed, make profits, and plan for future expansion.
Merchant Services
Facilitation of quick payments today is a prerequisite for startups that need to draw and retain clients. Opening a merchant service account, which allows clients to make online payments using debit or credit cards into the startup's bank account, is vital. Use of merchant services can help to reduce credit card fraud, which increases clients' confidence and willingness to continue to support the startup.
Founder Experience
According the Silicon Valley stereotype, founders of startup companies are typically young, but that is not necessarily true. According to a study by the National Bureau of Economic Research, the average age of the founders of many of the fastest growing startups in the U.S. is 45 years old. This success is attributed to the experience these founders have gathered in their previous positions.
Financial success in startups also hinges on commitment and being flexible to make needed changes. Mentorship for founders is also vital so that they can avoid pitfalls that come up in the early stages of startups.
(Visited 74 times, 1 visits today)