I was out recently when a bartender and I struck up a conversation about investing. I told him that I recently opened a solo 401k and have really started getting more heavily involved with investing, even though it's one of my financial fears. He was a wealth of knowledge on the subject!
Our talk made me realize that having conversations about financial fears is so important. I love talking about money, but it's still taboo in large part. In the service industry, where income varies wildly and benefits like a company retirement account are essentially unheard of, it's especially rare to talk about money topics like investing or retirement.




While I'm down for any kind of money chat pretty much whenever I think that conversations about investing are particularly important. Investments are key to building long-term wealth.
It's also one of the most intimidating money topics. People think you need to be a professional, or a finance expert in order to understand the scary world of investing.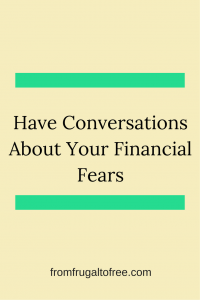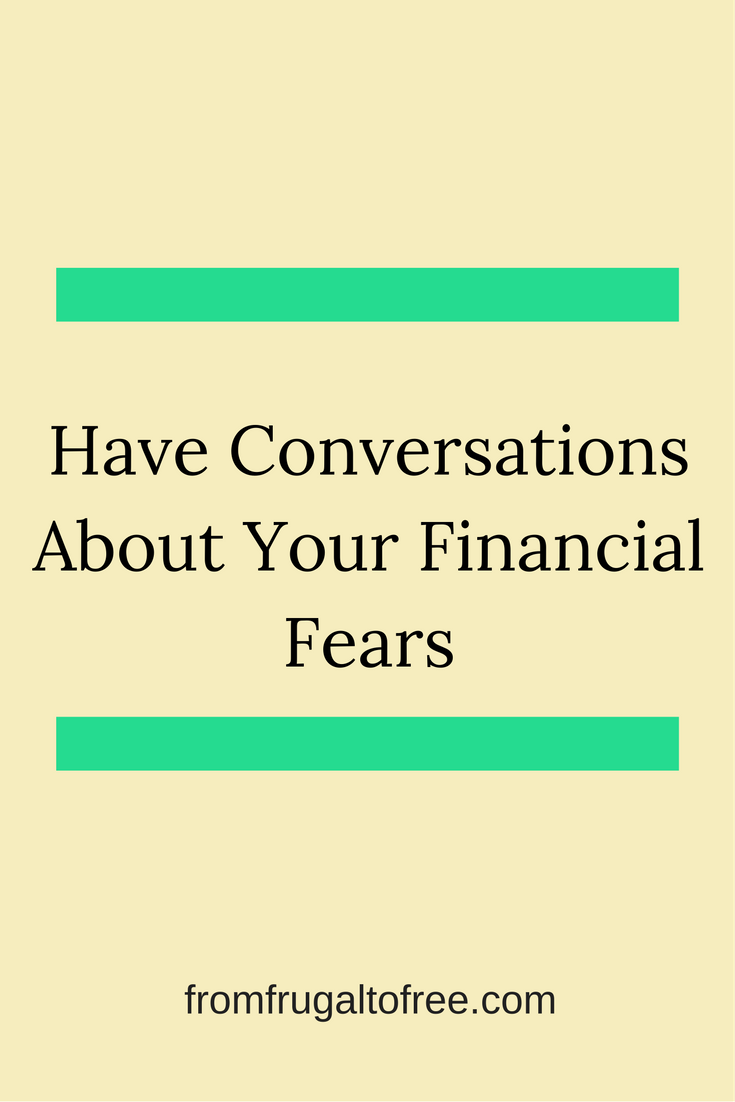 I'll admit I am a little intimidated by investing. I'm afraid of making the wrong investing choice and losing what I put in. I'm afraid I'm not really that financially smart and that I'll pick the wrong index funds. My introduction to the personal finance world was paying down my student loans. The formula was simple: make more money, send it to Sallie Mae, repeat.
Investing is much more complex than debt payoff was. There are more choices, more regulations, and I want to feel informed as I move through this world. You can't make choices lightly, and I don't want to. I've let my financial fears limit me somewhat.
I haven't done as much research as I should, and I haven't added more into my accounts even though I've got a few hundred dollars I could invest. My fear has been making decisions for me.
Through the power of transparency, you can start fighting fear. You don't need to get fancy degrees or hire someone. Have a conversation about investing. Let people know what you do and do not know about. Be open about where you are on your investing journey.
Transparency banishes fear. Looking things in the face and saying 'Hey, you're not so bad' helps us take control over fear. The bartender and I chatted for about 15 minutes about Fidelity vs Vanguard, different retirement accounts, and using credit cards to achieve your larger financial goals.
That conversation helped squash that little nugget of fear that I was carrying around. I found myself comfortable throughout the conversation. It helped me see that I am knowledgeable and good with money. I am capable of becoming a good investor.
It's not easy to talk about our financial fears. It's difficult when we feel intimidated, scared, or alone. But having these conversations fights those feelings, and opens up our worlds. We get to meet bartenders who are investing whizzes. We get to bond with people over the same financial challenges and triumphs. We get to work through things with people and ask for help.
A simple conversation might end up being the best tool that we have to fight fear and to help ourselves. That's really what our blog-world is: one giant, extended conversation. We learn from one another and help one another. The personal finance blogosphere changed my life. Just imagine the power that in-person conversations about money hold.
Finally, if you're interested in broadening your own personal discussion of finance, here are a few books you should check out.
Jane Bryant Quinn's Making the Most of Your Money Now

Eric Tyson's Personal Finance For Dummies

Dave Ramsey's The Total Money Makeover
All of these are good basic primers on investing, debt reduction, saving, insurance and the like. All of them are available on Amazon.com or you can get them at your local library for free.
(Visited 279 times, 1 visits today)

Kara Perez is the original founder of From Frugal To Free. She is a money expert, speaker and founder of Bravely Go, a feminist financial education company. Her work has been featured on NPR, Business Insider, Forbes, and Elite Daily.