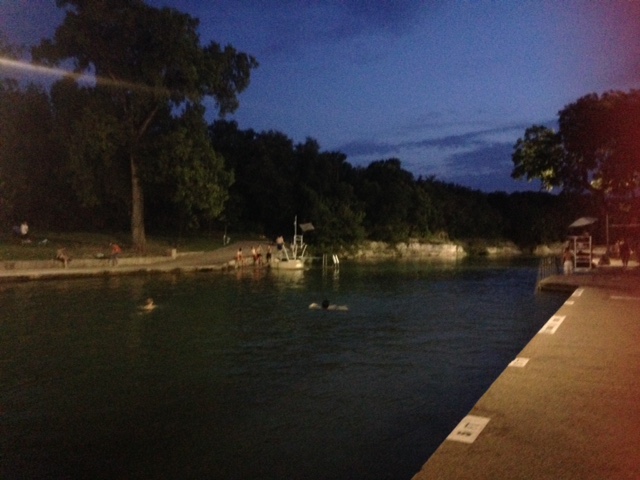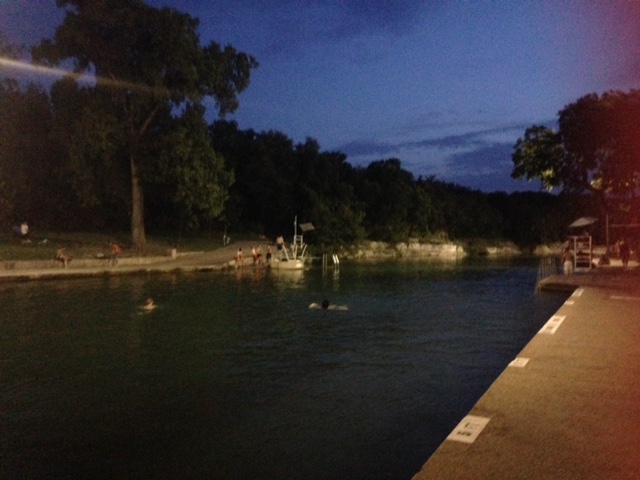 Night swimming!
The last two weeks I've been making a serious effort to get out of my house and experience my city. I'm a homebody for sure and sometimes it can be hard to roust myself from my house. Austin is a great town and since I plan on moving away some day I want to really take advantage of all it has to offer when I'm here.
I also want to stay within my means. That's actually really easy to do in this town! There's lots of free or frugally priced things to do in Austin and I'm happy to say I've been trying to take advantage of them.
My main goal the last few weeks has been to track down some free exercise. I spend a lot of time sitting and can easily go a whole day without having to leave my house. God knows too, I love me a good exercise class. Working out with other people motivates me and by taking classes I get in different work outs from what I can provide for myself. If it's a free class I'll try pretty much anything! I've done zumba, cycling, yoga and kickboxing classes.
I also firmly believe in not paying for a gym membership. I was an athlete for 11 years. I have a very solid knowledge base of how to exercise and eat well. Why should I pay for it? The outdoors serves as a great gym if you now how to use it. Plus, there are free deals all around us. I stumbled upon an awesome one a few weeks back: free yoga, free snacks and free swimming. What?! It's the trifecta of free, fun and food! 
Right near downtown Austin there is a big park that has a natural spring in it. It's deliciously cold and really pretty, a perfect summer retreat from our insane Texas heat. Normally it costs $3 to swim there, which is already pretty frugal. If you go for the first or last hour the pool is open the fee is waived. That means from 5-6am or 9-10pm you can swim for free. 
A yoga studio in town has capitalized on that last free hour! They host a free, hour long yoga class on the hill outside the spring. Yoga goes from 7:30-8:30pm and after the class, the yoga studio sponsors are waiting to hand out free snack! Kind bars, SmartPop popcorn, JuiceLand smoothies and energy bars get handed out. Then people head to the pool at 9pm for the free hour of swimming.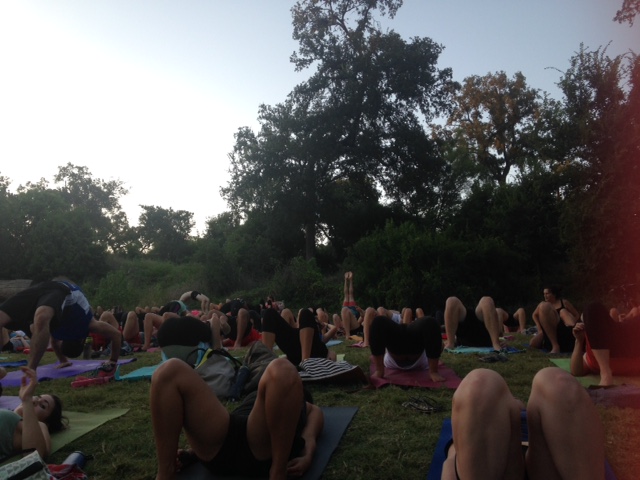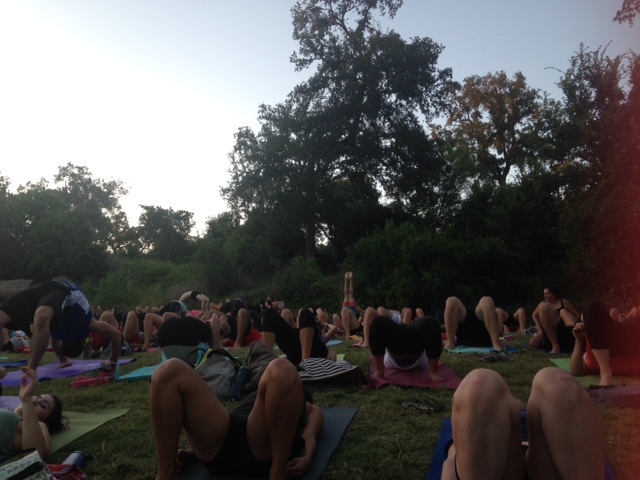 About 200 people doing sunset yoga!
This incredible deal happens every Monday night for 8 weeks. I've gone twice and have thoroughly enjoyed myself both times. You work up a sweat with the yoga outdoors and then after a little munch you get to jump in the spring waters. It's a great way to wrap up a day. I've been going with friends as well and turning it into exercise and friend time!
I'm really hitting a yoga groove these days. There's a coffee shop that's a 15 minute walk from my home that also offers free yoga classes. Monday-Friday a volunteer teacher holds a free class from 8-9am. I've been going with a friend every Tuesday morning and it's been lovely. I like waking up and getting in a little alone time on the walk over, then exercising and getting to catch up with a friend afterwards.
Like the title of this post says, free is all around us. With just a little looking you can find all sorts of free deals. I've been able to find free yoga classes for my summer fitness and it has made a world of difference in my energy levels. I like being on a regular work our schedule and having the responsibility of getting to a class keeps me honest about going.
When there's a reason to pay for something I'm happy to do it. When's there's a chance to get something for free though I am all about it! The Monday night yoga class runs for three more weeks and I plan to be at two of those nights. Try looking for free deals in your town and open yourself up to the possibility of checking them out!
(Visited 133 times, 1 visits today)

Kara Perez is the original founder of From Frugal To Free. She is a money expert, speaker and founder of Bravely Go, a feminist financial education company. Her work has been featured on NPR, Business Insider, Forbes, and Elite Daily.