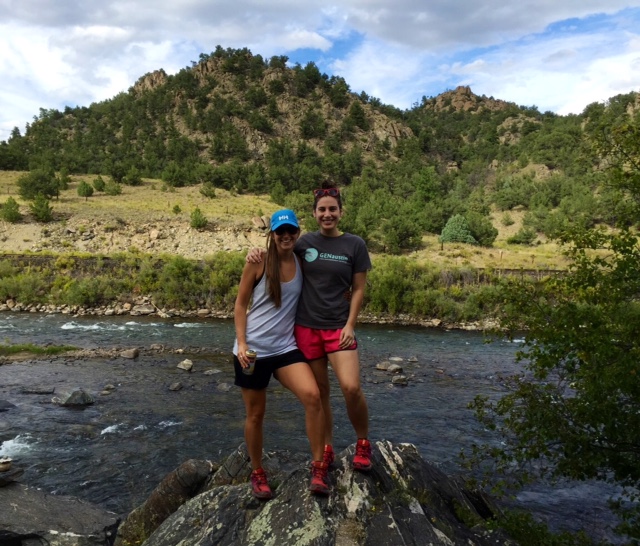 Me and my bestie in CO
For those of you who follow me on Twitter you may have seen a picture or two of my recent road trip. The boy and I hopped in a car for eight days and meandered through Texas, New Mexico, Colorado and Utah. It was our first trip together (and went smoothly, whew!) and it was a much needed break from our jobs and lives.
I've been planning this road trip for months. I decided last March that I was going to go to Arches National Park this year come hell or high water. I've also really been hankering to see Denver, CO. I'd never been to either place, and just consistently read great things about both. So I put together a weird, but baller, route for us to take.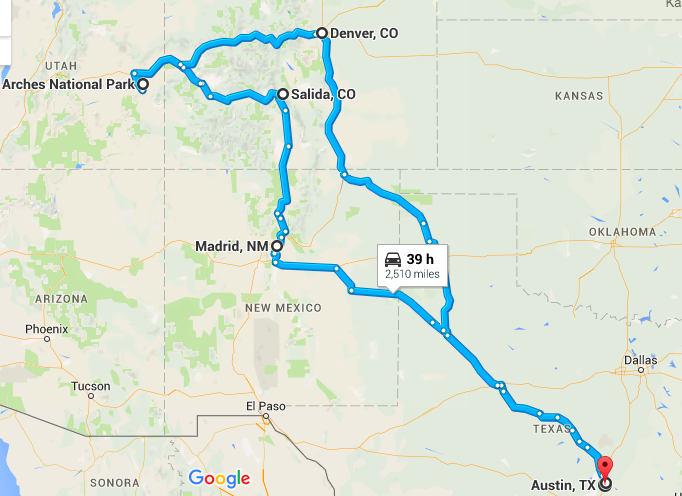 We went from Austin to Madrid, New Mexico, a small town of 400 in the mountains south of Santa Fe. I have a friend there who graciously put us up for the night, and made us coffee in the morning. From there we went to a campsite just south of Salida, CO, and met up with one of my very best friends from back home. (It was the boyfriends first time meeting her!)
Then we camped just west of Grand Junction CO, and spent a night on top of a mesa. The next day we rolled into Arches first thing in the morning, and spent the day hiking and camped there for the night. From Arches we went to Denver for three nights, and then drove 17 hours back to Austin in one big go.
And how much did this whole trip cost? $646 for the both of us. We split the cost of everything so we each paid a cool $323 for more than a week away!
That includes all food, housing, gas and entertainment. And while I'm pretty damn frugal remember that this was also my vacation. I assure you that we treated ourselves more than once! Here's how we did it.
We brought most of our food with us
I knew food was going to be a big expense so the day before our road trip I headed to the grocery store and stocked up. Since this was a road trip and we'd have a car we were able to bring a lot of our food with us. Our grocery list included:
carrots, hummus, broccoli, wheat tortillas, bananas, peanut butter (a big jar), Goldfish (the biggest box possible), whole wheat bagels, six protein bars, a red pepper, three red apples (just for the boy), pre-made trail mix from the bulk section, Sour Patch kids, 6 large containers of water, and a cucumber. The total cost was $48.00. 
We also brought some food that we already had around the house. I brought half a box of pasta, instant oatmeal, four hard boiled eggs, four packs of tuna, a bag of tortilla chips and a bag of popcorn. The tortilla chips and popcorn were leftovers that people brought to my clothing swap and the tuna was provided by my boyfriends mom. And I had three 'buy one get one free' coupons for the specific protein bars we bought. Doubly frugal!
We cooked at our campsites, making meals like pasta and veggies. We ate meals in the car like tortillas with hummus and veggies. Breakfast was either oatmeal or bagels with peanut butter, even once we rolled into Denver and were staying in a house. We snacked on trail mix, bananas and apples.
In what I considered an advanced frugal move, I filled two large mason jars the morning we left. One with black coffee and one with ice tea. We stuck them in the cooler and were all set for our morning caffeine fixes! We snagged some creamers for the boy (along with some mayo packets for our tuna!) at a gas station when we stopped, so we had totally free coffee for our three days of camping.
We spent three nights camping
We cobbled together camping equipment between the two of us. My boyfriend has his own tent, sleeping bag, pillows and a fold-up chair. I contributed three sleeping bags, a pillow, a campfire lighter, plates, silverware, a cooking pot, cutting board and random other things like trash bags. The boy made a small first aid kit too and we considered ourselves set!
We spent $7 on our first campsite south of Salida, $0 on our second campsite on the mesa (dispersed camping is totally free!) and $20 for our campsite in Arches. $27 for three nights of lodging? I'll take it!
Camping is more than just a frugal housing alternative. We both really like it! It's wonderful to be away from the constant noise and motion of a city, and to spend the night in nature. We saw some amazing sunsets and sunrises from our campsites. The mesa top in CO afforded us some pretty incredible views of the stars too. I saw a shooting star! We also like snuggling in the tent together, ahh. 🙂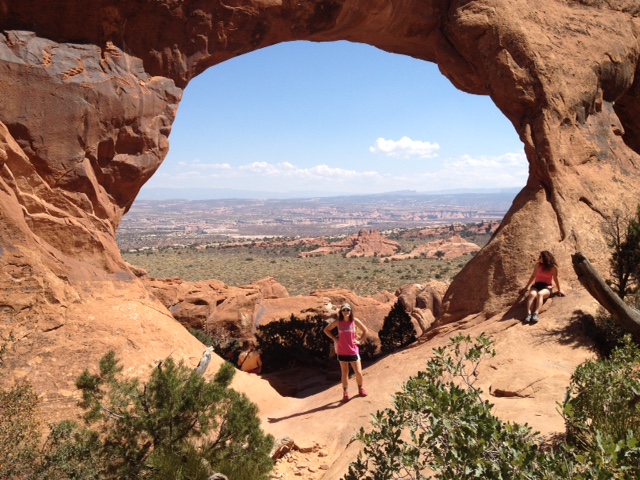 Me at Arches!
We focused on free stuff in Denver
Once we finally rolled into Denver our frugality didn't stop. We had found a place to stay on Airbnb that was only $50 a night. It included free wifi, parking, and coffee in the morning. We had a full kitchen to work with, so we were able to eat our breakfasts at home each morning. It was also a great location, so we hardly used the car at all in the city. Instead we walked and biked almost everywhere!
We had planned to bring both our bikes on the trip, but alas, mine didn't fit onto the bike rack we had. So we brought his bike, and I rented one. It was $30 for a 24 hour rental, but I actually only paid $25 because my boyfriend found a coupon online! That boy gets me. We biked around downtown, along the Cherry Creek river paths, and even stumbled on a farmer's market one morning. We sampled some treats and enjoyed walking around the market for a little bit.
I googled 'free things in Denver' and was generously answered by the internet. Denver is a small city but there's lots to do! We went to Great Divide brewery and had a free tour of the facilities. We also gave ourselves a free walking tour of downtown Denver.
We went to a free museum, the Dikeou Collection. It's hidden away in a downtown office building, but it's an eclectic collection of art and instillations from the last three decades. I was introduced to a whole new world of artists! You could even climb on one of the pieces.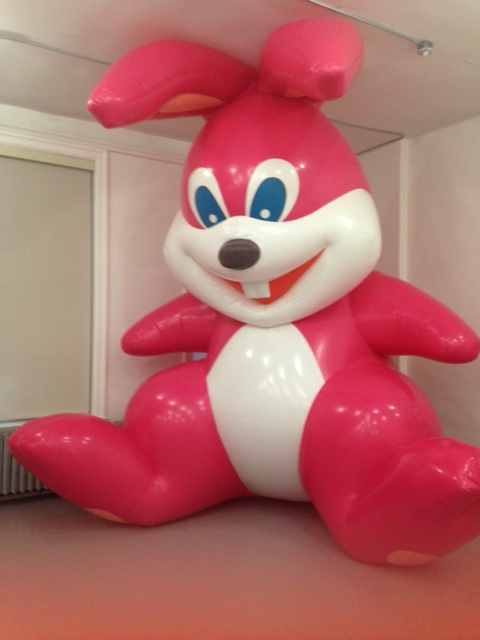 An installation piece from the Dikeou Collection
We also drove 30 minutes out of town to get to Red Rocks Park. It's a beautiful spot just outside Denver where you can go hiking. There's also a beautiful amphitheater incorporated into the natural rock facade that we got to walk around. I'd love to see a concert there some other trip!
While we mostly stuck to free or frugal things, we also did enjoy ourselves and open the wallet up a bit. We enjoyed a few different kinds of beers while in Denver, since brewing is such a big thing there. We found an hole in the wall pizza place called 'The Pie Hole' and ate there on two different days. We watched the Patriots game in a bar one night, and enjoyed some fried food and craft beers. We also picked up a few snack for our drive back to Austin at a Denver grocery store.
We gave ourselves a budget of $500 each when we were planning the trip. When we got back home we added up our expenses, and were thrilled to learn that we came in way under that. I'm just super pleased with both how the trip itself went, and how much we spent on it. I felt totally luxurious almost the entire trip. I was in beautiful places with my favorite person and I didn't have any responsibilities to worry about. Coming in under budget was just a bonus!
(Visited 172 times, 1 visits today)

Kara Perez is the original founder of From Frugal To Free. She is a money expert, speaker and founder of Bravely Go, a feminist financial education company. Her work has been featured on NPR, Business Insider, Forbes, and Elite Daily.