This month I've had two friends visit on two separate trips. Great times all around! I've lived in Austin for almost four years, and I've actually had very few close friends come visit.
Having visitors is exciting, exhausting and if you're not careful, expensive. You want them to experience the best your city has to offer! Which means you spend a lot of time planning, driving and buying things. Double visitors means double the spending.
Luckily, I am a frugal ninja. And my friends are very aware of this. I wanted to show off Austin, and I definitely did more spending than I normally would. But, I didn't want to entirely blow my very carefully planned budget. So I devised a frugal minded way to get to know Austin!
There are tried and true methods for saving money that I incorporated into my plan for visitors. Since I'm living my life on frugal autopilot, all the things I'm inclined to bring visitors to are free or cheap anyway. With a little tweaking, I found a way to bring my frugal twist to some of the classic Austin experiences.
First Rule: Get Outside
Austin is a surprisingly green city. There's a good amount of greenery buried deep in the heart of Texas. Austinites love to be outside, and I am no exception.
While seven months of the year it's too hot outside to do anything besides melt, March is a great month for hiking, walks around the city and drinking outdoors. With that in mind, I took both of my friends on a free hike, a free stroll down South Congress, a cute artsy and boutique filled street, and to a free tour of an outdoor graffiti gallery.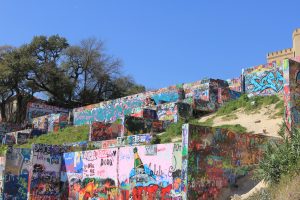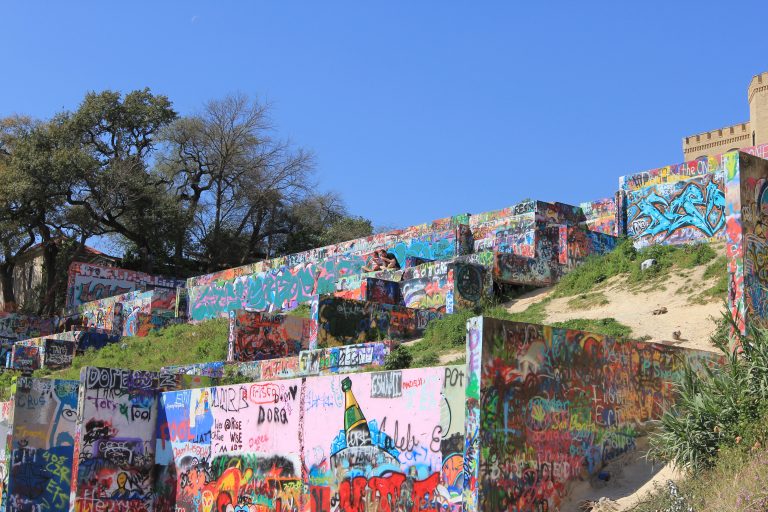 Graffiti gallery! Check my instagram for more photos
Lot's of walking, lot's of sunshine for my northeastern friends, and no fees! While the hike was 30 minute drive each way, and that gas money certainly adds up, I feel good about taking advantage of the free things around me.
Second Rule: Eat Some Meals at Home
I'm at a point where I basically refuse to pay for breakfast foods. They're all super easy to make at home, and frankly, I enjoy my scrambled eggs more! My friends were more than happy to do breakfast at home every day of their visits. My second friend was even happy to do dinner at home for the majority of her trip!
Austin is a foodie town, and my friends wanted to experience the magic of tacos and BBQ while here. I wasn't going to deny them. And, as I rarely eat out in my day to day life, it's nice to hit up some favorite restaurants when friends come to town.
We did each out for lunch almost every day, with both friends. That added up quickly. However, I tried my best to supplement my meals with snacks from home, cutting down on the amount of food I needed to buy. I also brought a water bottle with me everywhere, so I didn't need to buy a drink. Every dollar saved counts!
Third Rule: Don't Drink
Well, I should say don't drink a lot. Neither my friends nor I are big drinkers, and we go to bed early. Basically skipping the bar scene is a huge money saver. We went to a few happy hours and got beers on special, but none of us ever got drunk. One beer a night, and a few nights with no beers, saved my wallet and gave us the energy to be up first thing in the morning for free adventures!
Fourth Rule: Utilize Home Space
A big part of friends visiting is showing them your world. A big part of my world is my friends. I happen to live with my three closest friends. So, a night in at my house to watch a movie with my housemates, and a few other friends, is a good way to introduce my hometown friends to my new Austin friends, for free!
While I only did this with one visiting friend, it was a really fun night. We stayed in, had eight people there, watched 'Bedknobs and Broomsticks' on Amazon ,and laughed our asses off. It was a frugal and fun night for sure!
I can't lie- I did do way more spending that I usually do, and a little more than I would have liked. Luckily, March is my highest earning month, and I will break even. I won't see a higher than average savings rate this month, which I was hoping for. But neither have I accumulated debt or thrown off my savings plan entirely. I really loved seeing my friends too, and I think the dollars were pretty well spent. So overall, no regrets! It's all part of getting more comfortable with spending in the areas that matter.
(Visited 178 times, 1 visits today)

Kara Perez is the original founder of From Frugal To Free. She is a money expert, speaker and founder of Bravely Go, a feminist financial education company. Her work has been featured on NPR, Business Insider, Forbes, and Elite Daily.