Yesterday I pulled the trigger on my first financial Smart or Dumb decision. Was I going to take a trip to San Diego in May with my best friends from home, incurring some major expenses along the way? Or was I going to save that money and continue with my debt pay off plan and year of minimal expenses?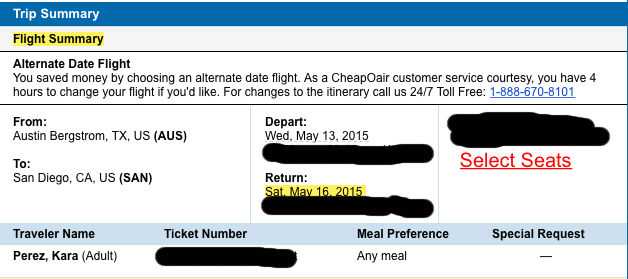 California, here I come!
I booked my ticket yesterday with my brand spanking new Capital One VentureOne card. (It arrived in the mail and one hour later I had my ticket booked!) I got a good deal with a $260 round trip ticket, and I'm using the purchase towards the $1000 I have to spend in three months in order to get the 40,000 rewards points. I'm leaving a day earlier than my friends because I have to be back to work Sunday, May 17th. Still, it's three nights and four days in a beautiful spot with beautiful people.
I'm really excited about this trip. Five of my friends have already booked their tickets and three more will most likely be joining us. I am lucky to have known these women since we were teens and I consider them the best people I know. Usually I only see them once a year, which is a shame. I am always inspired, renewed and heartened by talking with them and spending time with them. My friends are great people, doing wonderful things and having a blast along the way.
Our plans for San Diego haven't been set in stone yet but I know I want to get in some serious beach time, go for a hike or two, watch the sunset over the ocean and drink some drinks! There has been talk of paddle boarding, surfing, a fancy dinner out to celebrate our engaged friend and shenanigans of all sorts. I am so ready for all of it.
In order to financially prep myself for this trip, I've decided to cut back drastically in the coming month. February is going to be a no-spend month for me. I'll be paying the bare bones only: rent, internet, health insurance, gas, and of course my loans but every extraneous thing is gone. No coffee shop purchases. No dinner out or gifts for Valentine's Day. No picking up Chapstick at the gas station.
Most importantly, I'm going to try and go the whole month without spending money on food. I've signed up for five catering gigs, which we know provides me with lots of food. I am also going to be coaching at a private high school starting February 3rd. I am lucky enough that this part time job comes with free food as well: dinners in their dining hall. Last year when I coached I ate at the school about twice a week. I'll probably be doing so more this year, especially during February. I also have some canned and frozen food stocked up that I'd like to work my way through. I honestly feel I can eat healthily and happily for the entire month without spending any money.
Now, I live well below my means every month. I don't regularly spend a lot of money. January saw a lot of extra purchases due to birthday fun and some car maintenance (oil change and toll fees). Honestly, the savings I will get from this no-spend month will be fairly meager to most people. I'm estimating I'll save myself around $150. However, as I am using these savings specifically for my trip, that $150 is going right towards my San Diego budget, which will be a huge help. I'm hoping to spend $600 total on this trip, $200 of which should come back to me through redeeming my reward points  in April.
That leaves $400 to make by May, but which I believe I can earn by the end of February. With my coaching pay kicking in next month, the money I make catering I'll be able to put aside for this trip without sacrificing my loan payments. I've always been someone who would rather push harder for a shorter amount of time than endure for a long period. If I can push myself through this plan, I should be able to stay on track with my loans, save for this trip and come out even at the end of a mere twenty-eight days!
(Visited 311 times, 1 visits today)

Kara Perez is the original founder of From Frugal To Free. She is a money expert, speaker and founder of Bravely Go, a feminist financial education company. Her work has been featured on NPR, Business Insider, Forbes, and Elite Daily.