One of my long-standing resolutions has been to work on my image. I'm a jeans and t-shirt, hair in a high bun, no make up kind of girl. I've simply never been into fashion, and that's ok with me.
But if we're being honest here, it's getting a little less ok with me. While I will never be a fashionista, I do want to look nice. Right now, that's not the case. Most of my clothes don't fit me quite right, since they come from thrift stores or clothing swaps with friends. I don't own any jewelry or accessories for men. My nicest shoes are a pair of black booties that are scuffed, and I don't have a men's bracelet collection, like a lot of other people.  I look, at any given moment, a little shabby.

Not exactly the image of a professional. So while I have long said that I want to be more pulled together, I've actually begun the process.
A few weeks ago, a cool watch company reached out to me. JORD makes watches from wood found around the world. The crafters work with both machines and their own hands to create each watch. And y'all, the watches are beautiful.
Full disclosure here: the last time I owned a watch was high school, and I bought it for $25 at Target. It was blue and plastic and I lost it after about two months.
My JORD watch is, you'll notice, neither blue, nor plastic, and hopefully not something that I lose in two months. This is the kind of look that I am going for: stylish, classic, and pulled together.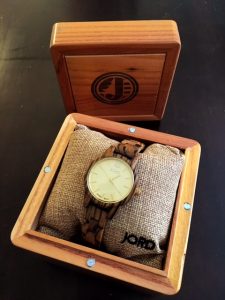 I know everyone lives and dies by their phones, but I love wearing a watch. It makes me feel fancy since it's a new experience. And I really like the wood! I don't wear leather, so traditional watch bands are out for me. The wood is flexible and comfortable and can survive minor splashes when I'm washing my dishes.
Now, ya girl here went with the Frankie 35 in Zebra and Champagne. I like the coloring and felt it would go with a lot of different styles. (Remember, fashion noob over here.) If you're interested in a watch for yourself, or for a holiday gift, you can score a gift card right this way.
I've worn my new watch out three times, and I've already gotten a bunch of compliments on it. Now normally, I don't get compliments on my attire. People don't usually have much to say about yoga pants and tank tops. So I'm taking the compliments as a sign that I've already stepped my fashion game up with this watch!
(Visited 206 times, 1 visits today)

Kara Perez is the original founder of From Frugal To Free. She is a money expert, speaker and founder of Bravely Go, a feminist financial education company. Her work has been featured on NPR, Business Insider, Forbes, and Elite Daily.