The end 2016 is right around the corner. What a doozy of a year it's been! (RIP Prince.) It's easy to skip over December, with the holidays, traveling, and next year right in sight. I like to set financial goals not just for 2017, but for December itself. It's the last month to wring something out of 2016, and it's not too late to hit your financial goals for the year, or even add a new one!
We've got 26 days left to make 2016 work for us. If you've got a short-term financial goal, now is the time to go after it! If you're trying to wrap up a goal you set in January for the year, give it all you've got for the last few weeks of the year.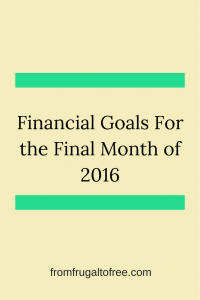 Here are a few goals we should all have this month. Get on board this train yourself!
No debt for Christmas gifts- You should never go into debt because of the holidays. It's totally unnecessary and harmful to your other financial goals. With 20 days until Christmas, there's still time to pull a little extra from your budget for those gifts. Even if you can't come up with your entire gift budget, a little extra money never hurt anyone! 
Here are a few quick ways to save in a short timeframe:
Forgo eating and drinking out for the rest of the month, and stash that money away for gifts.
Declutter and sell books, clothes, and knick-knacks. More space for your 2016 gifts that way!
Cancel one subscription for the month. Spotify, cable, or a magazine subscription will put a little breathing room in your budget.
Charitable Donations- Tis the season and all. There's always a good cause to donate too, and maybe you've been meaning to give back all year. Now is the time! Most nonprofits receive about 70% of their contributions between November and December each year.
For the past few years, I've asked my mom to include a gift to Planned Parenthood as a part of my gift. If you can't give yourself, consider asking people to give on your behalf.
Check Up On Retirement Accounts- I am guilty of the set-it forget it investing approach. I say guilty because I'm not accomplished enough as an investor to totally ignore my investments. I should stay on top of them more. That's a goal for this month! Checking in with your retirement accounts (and maybe giving them an end of year boost!) is critical to your overall financial strategy.
Make sure the fees are something you can handle, and the portfolio is weighted as you want. You have until December 2016 to make 401k contributions for this year. You have until April 2017 to make contributions to your IRA for this year. Checking in now and making sure everything looks good for both accounts is a great December financial goal.
Now, lest you think I don't practice what I preach, I've already checked off one of these goals. I recently made a donation to the Standing Rock Sioux Tribe and asked my extended family members to consider donating to Planned Parenthood in their gift giving this year.
Finally, another easy goal to knock off this month is to do an end of year house clean. I recently cleaned my desk, and it was life changing.
(Visited 238 times, 1 visits today)

Kara Perez is the original founder of From Frugal To Free. She is a money expert, speaker and founder of Bravely Go, a feminist financial education company. Her work has been featured on NPR, Business Insider, Forbes, and Elite Daily.