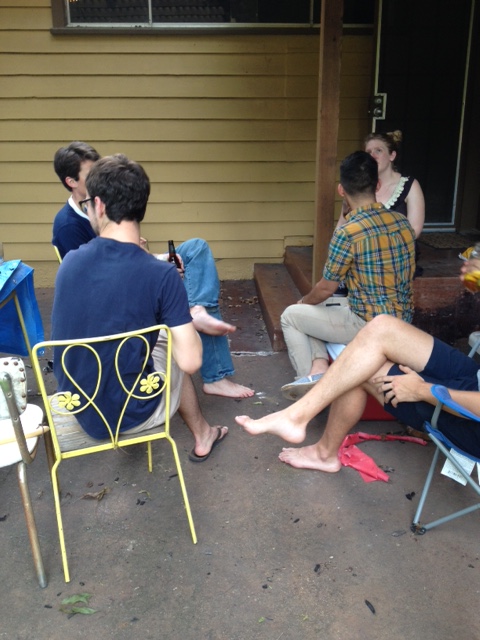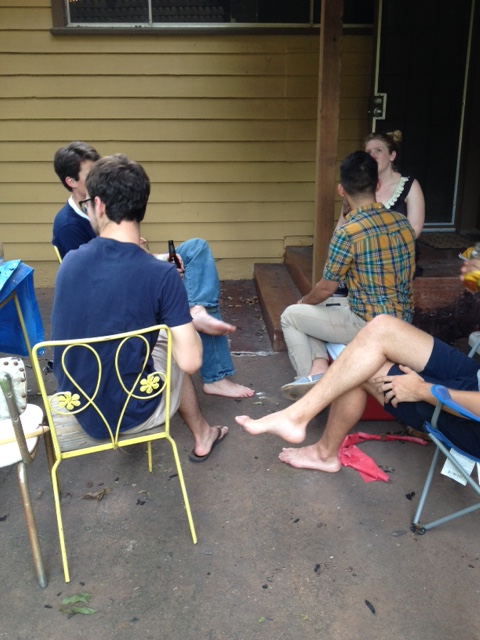 My faceless friends at our backyard birthday party
This past week was the second year anniversary of my moving in to my current house and with my friends, one of my roommates birthday's AND the fourth of July. We have a lot to celebrate in my house during this week each year. So my friends and I, being the super cool people that we are, dubbed the first week of July 'Jubilation Week' and celebrate all three occasions each year. It's silly and wonderful and I genuinely look forward to this time of year!
I had a lot of fun this week and saw a lot of my friends. I normally am something of a homebody but this week I was out and about, I was grilling and cooking, I was drinking and dancing! It was a bit of a whirlwind of social activities but I loved it.
I'm also happy to report that it was a very frugal weekend for me. I ate a ton of delicious and great food and spent almost no money on it. I went drinking and dancing and spent exactly zero dollars on that. There was even a blow up swimming pool that appeared in my back yard and I spent no money on that either!
Firstly, my friend and roommates birthday was during the week. In my house we have a traditional of making each other birthday breakfasts. So I gathered my meager kitchen skills and made a birthday breakfast of blueberry and walnut whole wheat pancakes! They were ok, but could have been better if I'd used milk instead of water. My bad. #cookingmishaps, amirite?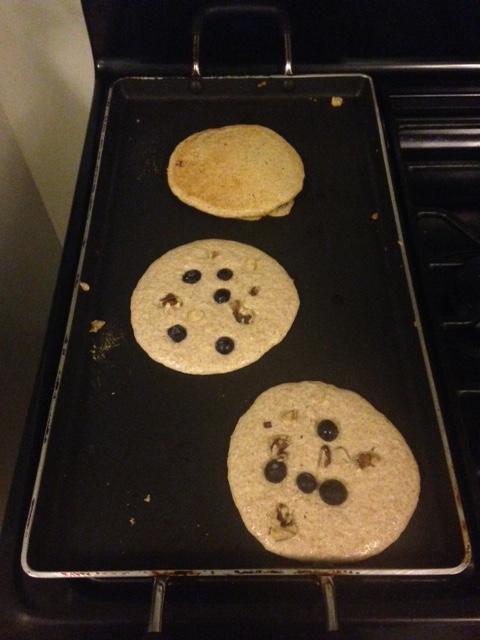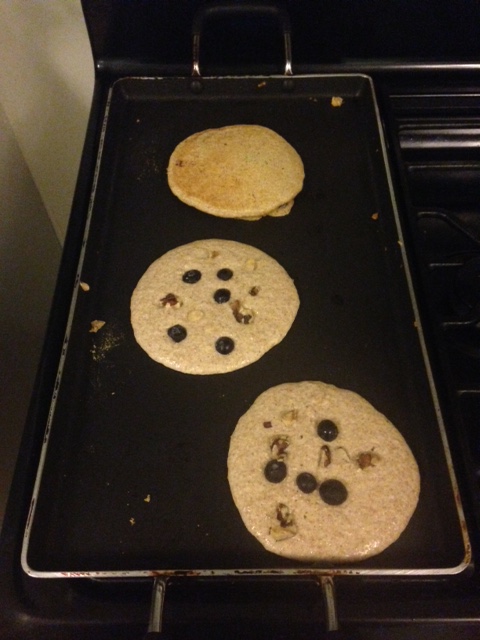 Blueberries and walnuts were a great call. Water instead of milk, not so much
Friday night we continued the birthday celebrations with a surprise grill out for our birthday boy. His girlfriend and I arranged to decorate the house, invite his friends and have an evening of grilling at the house, all without his knowledge. It was a super successful surprise and a wonderful evening. The girlfriend and I lead the charge on the grilling. I'm proud to say everything came out delicious! We grilled chicken and veggies, had some beers and a fantastic hits of the 90's playlist and we all stayed up late drinking and hanging out. I really enjoyed getting some serious hang time with friends and getting to be outside in the sun.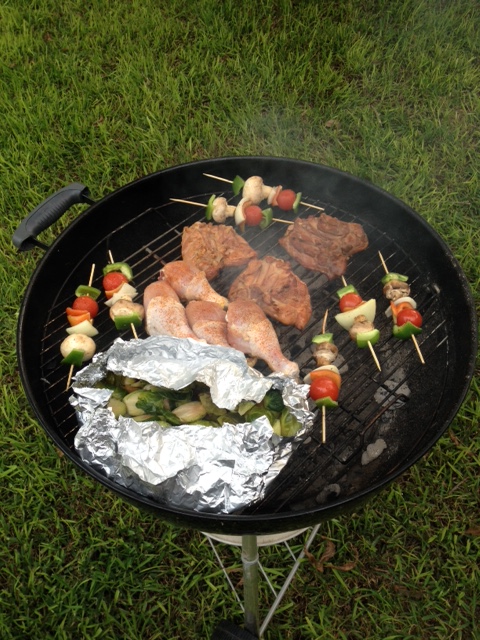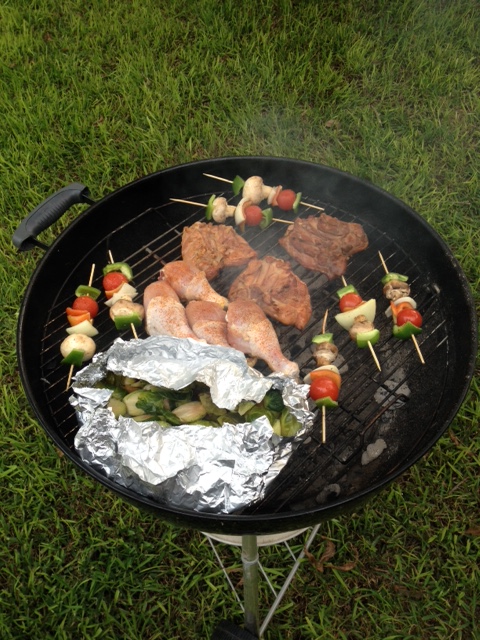 Brussels sprouts, veggie kabobs and grilled chicken
Saturday was of course the 4th of July and the food, the drinks and the hanging just continued. We had really beautiful all weather here in Austin this weekend. It was in the 90's, which is cool for an Austin summer day. Perfect weather to have some drinks and hang out with the people you love outside!
In that spirit one of my roommates ran to Target and picked up an inflatable pool and some frozen ice cream treats for the house and you better believe that we hung out in that pool! Well, to be fair, I actually sat in the shade next to the pool, but all my housemates, my boyfriend and my roommates girlfriend, sat IN the pool. I had gotten a little burned on my run the day before so I was being extra careful of my time in the sun. I stuck my legs into the water and enjoyed the company though.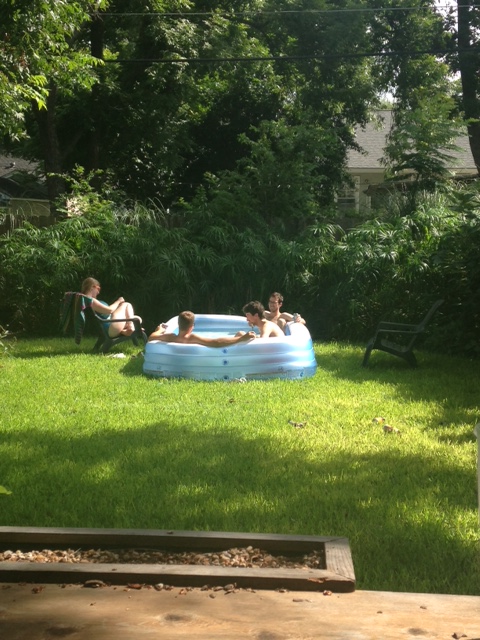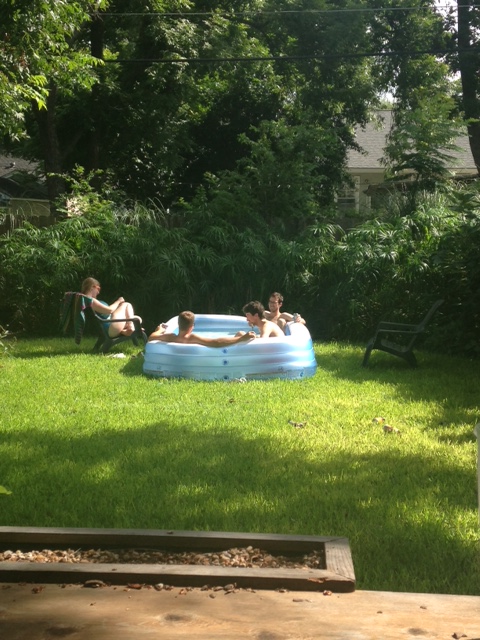 Saturday evening we all headed to another friends house for cocktail hour. There were chips and dips galore, brownie bites with strawberry and blueberry garnishes and a few different drinks to choose from. A grapefruit punch, beer and a margarita bar. I chose to make tequila my friend that night and enjoyed a few margaritas before we all walked to a honky tonk bar about 10 minutes from their house. A frugal and safe choice to be making on the 4th!
The honky tonk is one of my favorite bars in town because it's very much so a place where people go to DANCE. And I don't mean to shake their booty but instead to do some serious Texas two-steppin. The Texas two-step is a very basic and popular dance. I'm not very good at it but there are some people who can twirl and glide like they were born to do it. It's fun to be at this honky tonk because it's a great mix of novice and experienced dancers who are all having fun.
Overall, a very enjoyable weekend. I got to spend time with people I see only occasionally, I ate some amazing food and I spent very little money. With so many people involved in the weekend plans, costs were divided among all of us. Some people also were generous to play host or to shoulder a group cost totally by themselves (my roommate buying the pool for example). I definitely benefited from some generosity this weekend.  It was a pretty perfect weekend for me! This is the kind of life I want to create for myself: one filled with good people and good times, at a fraction of the sticker price. My weekend is proof you don't have to spend like crazy to enjoy life.
(Visited 116 times, 1 visits today)

Kara Perez is the original founder of From Frugal To Free. She is a money expert, speaker and founder of Bravely Go, a feminist financial education company. Her work has been featured on NPR, Business Insider, Forbes, and Elite Daily.