I'm straight killing it in the kitchen these days! I certainly still don't consider myself a cooking aficionado but I have cooked twice in the past week, so…maybe I AM an aficionado.
All my meals have been wonderfully frugal too. I'm focusing on using what I already have in my house to create meals these days, so I'm only buying things to supplement what I already have. It's been a fun adventure!
This week we've been having awesome weather in Austin so my boyfriend and I decided to try our hands at grilling. Neither of us had any experience but I figured with some pluck and a Google search we could pull it off! Our goal was to make grilled chicken with a quinoa and veggie salad.
I have a charcoal grill at my house that gets used about 4x a year. This was my chance to become a grill master! The first few steps were fairly easy- you heat the coals in a little side container that comes with the grill and when the coals are turning white, you dump them into the grill and cover it with the cooking grate.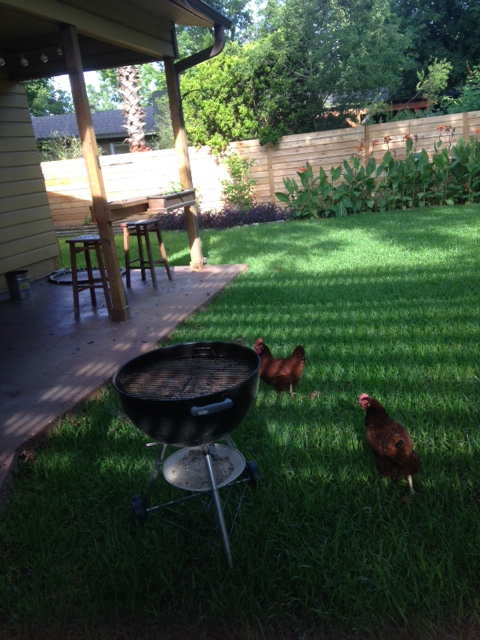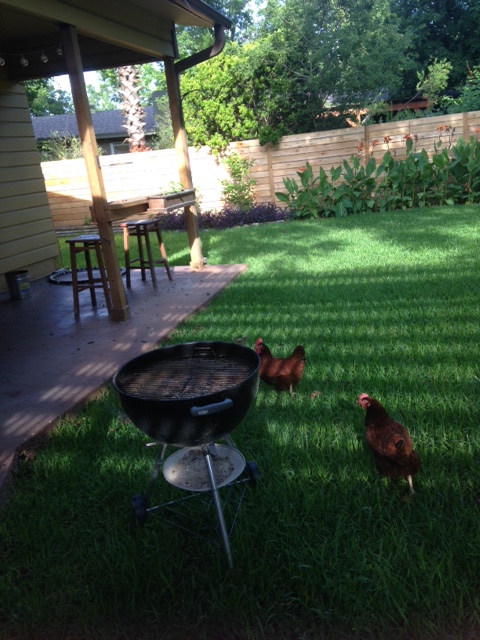 Grilling with my chickens
We accomplished that no problem. Next up was the actual cooking. The grill was less than sparkling clean so we decided to cook the chicken on aluminum foil. I had made homemade marinade for our chicken. (I'm telling you, I'm KILLING it recently), so we threw some foil down, put the chicken on top and I left my boyfriend to the manly task of grilling.
I went inside to supervise the quinoa situation. Quinoa is delicious, healthy and super simple to make. You put it in a pot with water or broth, bring it to a boil and then let it simmer for about 15 minutes. I used chicken broth this time and we had red quinoa.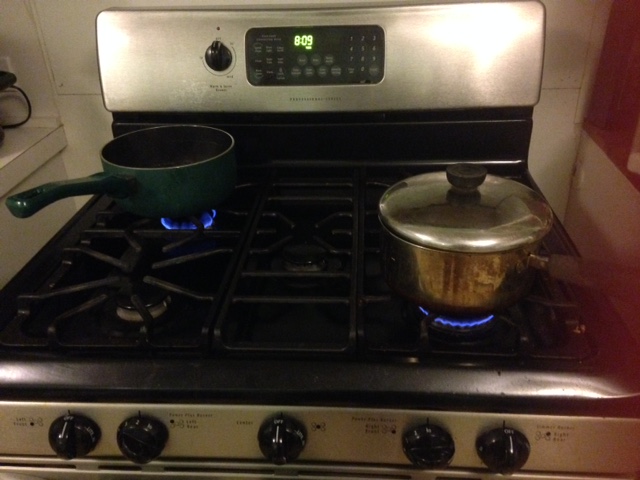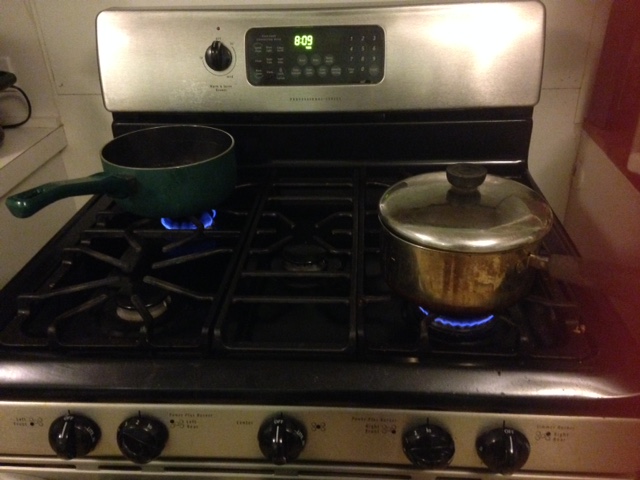 Two birds, one stone: quinoa up front, black beans for later in back!
In the spirit of using what I had in the house, I bought no vegetables for the salad. We had avocado, cucumber, spinach and tomato lying around, so they were all destined for the quinoa. I got to chopping and as the broth was absorbed by the quinoa, I also got to fluffing. It's very important to fluff your quinoa after it's cooked. #themoreyouknow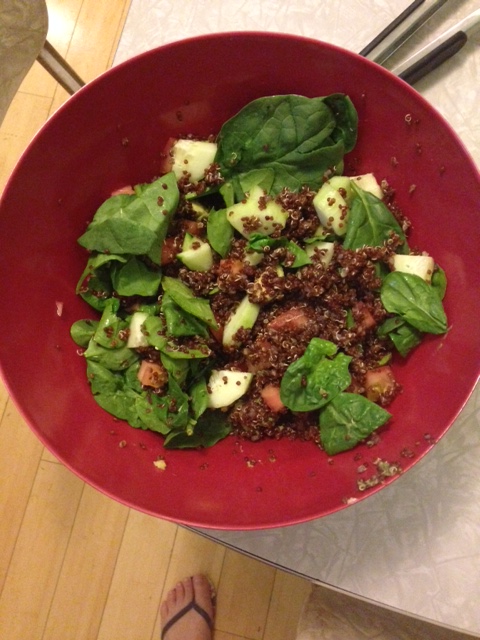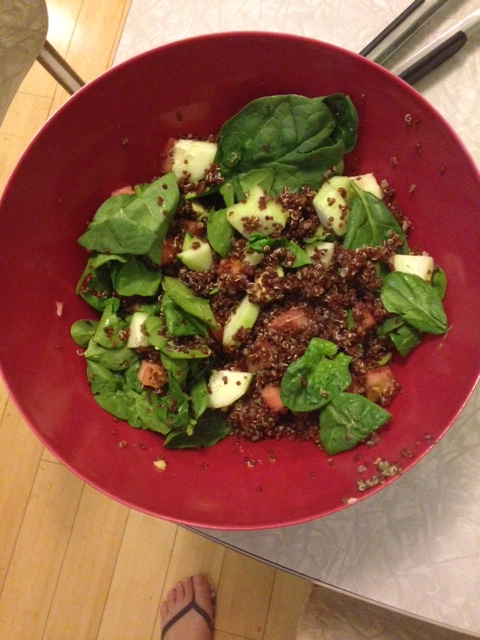 So colorful and delicious!
With everything on the stove top and cutting boards squared away, I went outside to check on the grilling. Turns out, it was not as smooth as ride! Both my boyfriend and I had failed to realize that there was grease from the marinade dripping off the aluminum foil. And that grease is flammable. And that flames will char things.
The grease really ignited the flames. Not in a scary oh-my-god kind of way, but in a 'wow, that chicken is really black' kind of way. We managed to get the chicken off the aluminum and onto a plate. Being frugal minded and not wanting to waste, we peeled off the truly burnt parts and the bits of aluminum that had gotten seared onto the chicken, and then we decided to improvise!
I threw the remainder of our chicken onto our trusty house griddle and turned up the heat. We wouldn't be having grilled chicken but we would be eating that chicken damn it!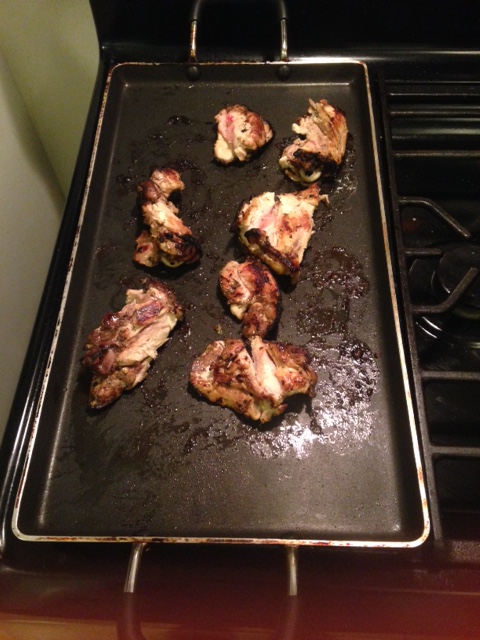 After a few minutes on the griddle the chicken started cooking very nicely. We covered the grease fire with the grill lid and smothered it. We got the chicken off the griddle, grabbed our salad and our beers and proceeded to enjoy our meal. It wasn't exactly what we had imagined but it was pretty good!
Cooking has a learning curve, that's for sure. I'm not upset at all about how our meal turned out. In fact, I'm looking forward to trying my hand at grilling again this 4th of July weekend! Practice makes perfect right? And that salad was delicious. I have some more quinoa and I think it'll become a salad staple for this summer. Quick, easy and delicious- just my kind of cooking.
(Visited 105 times, 1 visits today)

Kara Perez is the original founder of From Frugal To Free. She is a money expert, speaker and founder of Bravely Go, a feminist financial education company. Her work has been featured on NPR, Business Insider, Forbes, and Elite Daily.