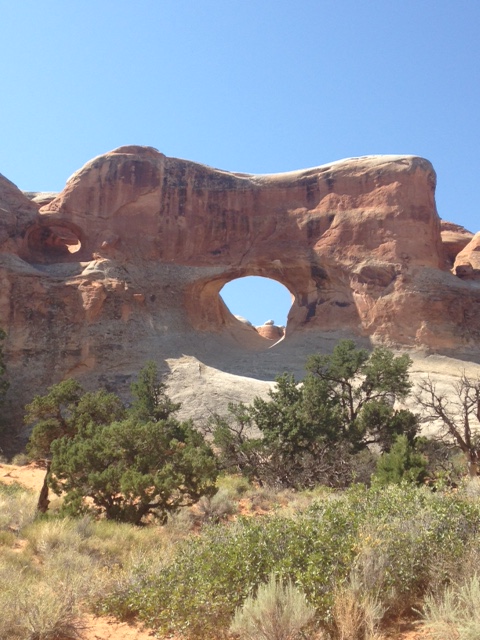 Arches National Park
VACATION IS THE BEST! Why isn't life always vacation?
I guess I wouldn't appreciate it as much if life was always vacation but I'm sure appreciating it right now. My boyfriend and I hit the road for an 8 day road trip last Saturday. We're hitting New Mexico, Utah and Colorado. We've been camping and last night we cruised into the Mile High City, Denver, where we're staying at an Airbnb rental for a few days. This trip has been absolutely amazing thus far!
First of all, I love a road trip. For some reason I like being in the compact space that a car has and I like the idea of traveling with everything I need. We have all our food, tent, bedding, entertainment, and clothing packed into our backseat/trunk and all I have to do is reach behind me for whatever I may need. It feeds into my self-sufficient side: I don't have to go to a restaurant if I want to eat, I don't have to rent a house if I want to sleep. I dig it!
Second of all it has been wonderful to get out of the Austin and it's heat. The day after we left it hit 100 degrees in Austin, plus humidity! After a whole summer of that weather it's so great to get out into the mountains of New Mexico and Colorado where humidity just isn't a thing. It's also a treat to get out of my own town. Seeing other places, experiencing new things like sleeping on top of a mesa or navigating a new city gets me excited.
The whole drive has been pretty beautiful too. The high desert of New Mexico and western Colorado has a special allure. The colors are totally different from where I grew up back east and from Austin. The landscape just seems otherworldly. Camping out in it is a really wonderful way to soak it all up too.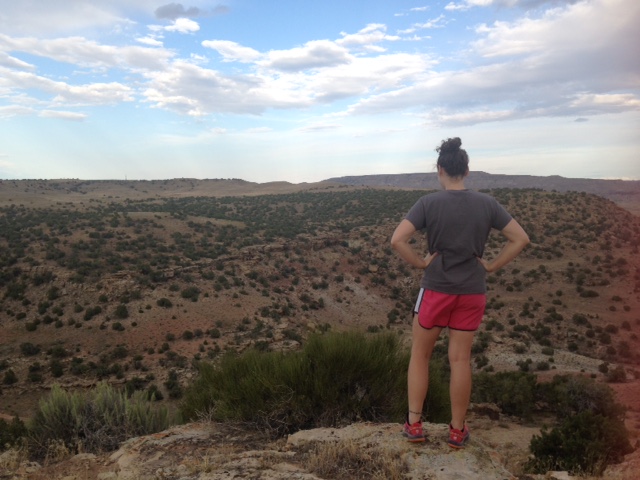 Me on top of the mesa we camped on.
This trip is full of new experiences for me too. I've been to only one city in Colorado before (Vail) so pretty much everywhere we've been has been brand new to me. I'd never been to Utah before at all. Arches has been my favorite place so far. It was just unreal. I'd never seen anything like that before: the stark color contrast of the blue sky and the orange rock, the way the arches shape themselves, the scope of the entire landscape. We camped there for one night so we also got to catch the sunset and part of the sunrise.
It's been really, really wonderful to take a break from technology and work too. I spend a lot of time on my computer and phone in my daily life and that simply hasn't been an option for the first four days of this trip. Service is non existent in the places we've been camping so I just turned my phone off. No work for me! It's really important to remember to take a step back and refocus on things besides work. That's just what this trip has been for me.
A lake in western Colorado
Like I said, I've been loving this vacation so far. I still have a few days left and I'm really looking forward to getting to explore Denver, stay off the internet a little longer and see as much of Colorado on the drive back home as possible.
Any suggestions for where to go in the Denver area or on the road back to Austin? I'll take any recommendations ya'll have!
(Visited 85 times, 1 visits today)

Kara Perez is the original founder of From Frugal To Free. She is a money expert, speaker and founder of Bravely Go, a feminist financial education company. Her work has been featured on NPR, Business Insider, Forbes, and Elite Daily.