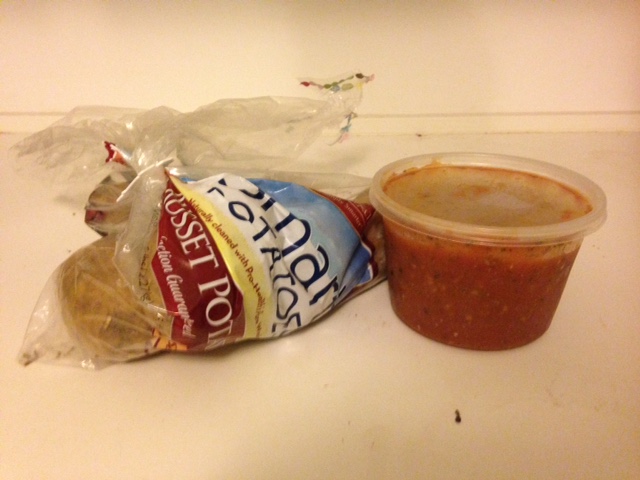 God knows I am not a born cook. My interest in food stems from eating it, not assembling it. I don't care to try out recipies or to just go into the kitchen and 'throw something together' for a meal. In my perfect culinary world, a delicious and nutritious meal would magically appear on my plate every time I wanted to eat. I would rather do the clean up than the cooking.
Working for my catering company has only exasperated this tendency of mine. I've come to rely on leftovers of already cooked and completed meals for my own meals. I simply re-heat most of my meals these days. I consider it a huge deal when I have to use the actual stove top or oven instead of the microwave for a meal.
Last Friday though, a friend and I decided to do brunch together. Of all the meals out there, brunch is the flashiest and also the simplest. Basically if you throw an egg of anything you can call it brunch. Here in Austin we have a city-wide obesession with breakfast tacos. For those outside the south (or the west perhaps) a breakfast taco is just what it sounds like. Throw some eggs, some potatoes and some cheese in a corm tortilla and you got a breakfast taco.
It's a simple and delicious meal to make. Just up my alley! Plus, time with friends has been in short supply for the last six months. In my quest to get to debt freedom I definitely dropped off the social scene in terms of going out to bars, dinner, movies, or anything that would cost me more than $5. Now that I am debt free I'm trying to ramp up the social life a bit more!
Luckily I had most of the ingredients too. My housemates and I keep chickens, which means we have a steady supply of free and delicious eggs. I snagged some salsa from my last catering gig (pictured above) and one of my housemates bought more potatoes than he could use. So I decided as a nice addition to our breakfast tacos I would make breakfast potatoes! My friend Emily would provide avocado and tortillas. We were set!
I chopped the potatoes, cooked them on medium heat in a skillet, threw on some salt and pepper and called it a day. I scrambled the eggs while my friend cut up to avocado she brought. We set the table with various sauces, a bowl of avocado, a bowl of salsa, our tortillas and our potatoes. We sat down to a lovely brunch and enjoyed each other's company for about two hours that day. It was free, it was fun and I must say, it was delicious!
I do want to make more of an effort in the kitchen because 1) cooking is a good life skill to have and 2) hopefully someday I won't be catering any more, which means no leftovers. I need to be able to fend for myself! Starting off in the brunch arena feels manageable. It offers some nutritious options, easy assembly and moderately easy clean up. Stay tuned for more frugal adventures in the kitchen!
(Visited 114 times, 1 visits today)

Kara Perez is the original founder of From Frugal To Free. She is a money expert, speaker and founder of Bravely Go, a feminist financial education company. Her work has been featured on NPR, Business Insider, Forbes, and Elite Daily.