A trip to Ikea is practically a rite of passage for everyone moving into their first apartment. I can tell you how many friends of mine have an Ikea coffee table because it's all of them. Ikea furniture is worth it to a cash-strapped college kid, or someone working part-time. It saves money and ensures you have somewhere to sit. But is Ikea furniture worth it as an investment?
I've owned Ikea furniture in my day. In fact, the desk I use in my home office is an Ikea purchase from a few years back! They have furniture for every need, from picture frames to couches to beds to coffee tables. If you need a piece of decor or a piece of furniture, Ikea has it.
Of course, that makes it attractive to anyone looking to furnish their home. It's easy to make one trip and walk out with kitchen, dining, and bedroom furniture. A one stop shop for all your Scandinavian design needs.
Easy though it may be, is Ikea furniture worth your money? Is it the best investment you can make in your home? The case against it is pretty strong.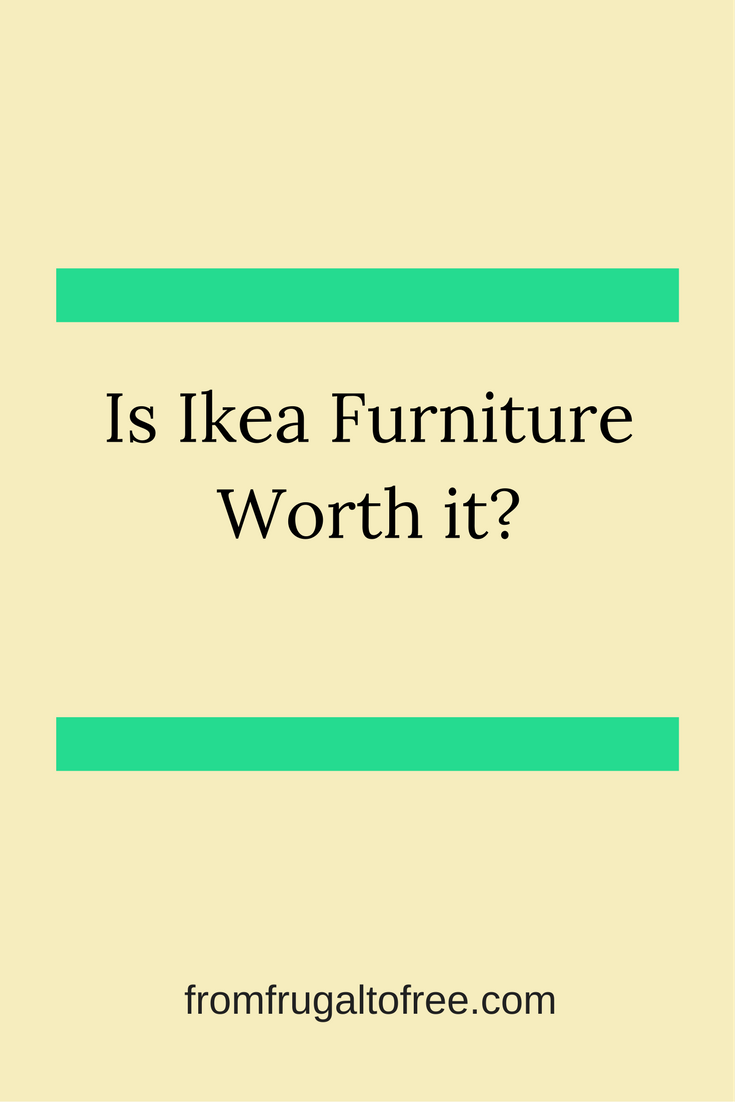 Ikea furniture is widely known for not being well made. Though the initial investment is small, the it is just not built to last. Your $40 coffee table is not going to see you through the next 40 years. So is Ikea furniture worth it at all?
A lot of their furniture is compressed particle wood between plastic veneer. Those kinds of pieces won't survive a move and will show wear and tear fairly quickly. Fiberboard is inexpensive, but if you have to replace a piece every few years, you'll pay more in the long run.
Take my desk for example. It's doing its job just fine, but it is made of fiberboard. There are small plastic feet in each corner of it, to help stabilize it. When I moved last April, the back left foot broke, and ripped a sizeable part of the fiberboard with it.
I was able to superglue the foot back onto the desk. Since it was in the back, no one ever sees the cosmetic damage. The fact remains though- if I had a sturdier desk, it would have survived the eight block move a lot better. I sincerely doubt my desk will make it to my next home with me.
Let's agree that a table is a less serious matter, but what about your bed? would you compromise quality for costs? Well, minimalist bed frames are cheaper everywhere, but I'd say it is not the best option to opt for a fireboard bed.
You can find solid wood or metal pieces at Ikea, and those are a better bargain. They'll last longer and look better. Of course, they generally are more expensive. If you're in a home for at least a few years, make the investment in the better pieces. Your wallet will thank you.
Ikea furniture is worth it if you need someplace to eat and sleep ASAP. If you're renting short term, or live in a frat house where things get broken regularly, Ikea furniture will do just fine. It's a small upfront investment, so if you don't particularly care about your furniture, it's the place for you.
If you do care about your furniture, Ikea furniture is not worth it. They generally aren't the pieces that you want to invest in and have for the long term. You won't spend a lot upfront, but you'll find yourself having to replace or repair the furniture too often to make those savings worth it.
(Visited 2,901 times, 1 visits today)

Kara Perez is the original founder of From Frugal To Free. She is a money expert, speaker and founder of Bravely Go, a feminist financial education company. Her work has been featured on NPR, Business Insider, Forbes, and Elite Daily.