Last week I bought my first clothes items of the year! As I've talked about before, I hate shopping. I was planning on going the whole year without any clothes shopping but that plan has changed. Turns out I have approximately zero clothes that are really appropriate for a work setting. So now I'm on a quest for high quality, low price clothes that I can wear as a professional for a few years.
I've started my hunt at the Goodwill's in my town. I'd been to three other Goodwill stores before I lucked out last week. Since I am so clothing averse I have decided on a 'one piece of clothing at a time' approach. I can't just walk into a store and look for the shirts, pants and skirts that I need all in one go. I get overwhelmed, tired and pissed off.
So for the last few weeks I've been on the hunt for professional tops. Specifically I've been looking for a white button down top. I've tried on a lot but haven't found one that has fit me well. As I was sifting through the women's blouses section of Goodwill a few other tops caught my eye.
Previously I had talked about my interest in assembling a work uniform. I'm interested in creating a simple, classic wardrobe that consists of white tops and black bottoms. These two other tops I was interested were not white. However, they were in the basic color palette- one was black and one was gray. Both fulfill the reasons I want to build a work wardrobe. They are versatile, professional  and will work with any bottom I currently own. Both are also well made and stylish while also not being trendy. The gray top is a Banana Republic top and the black is from The Limited.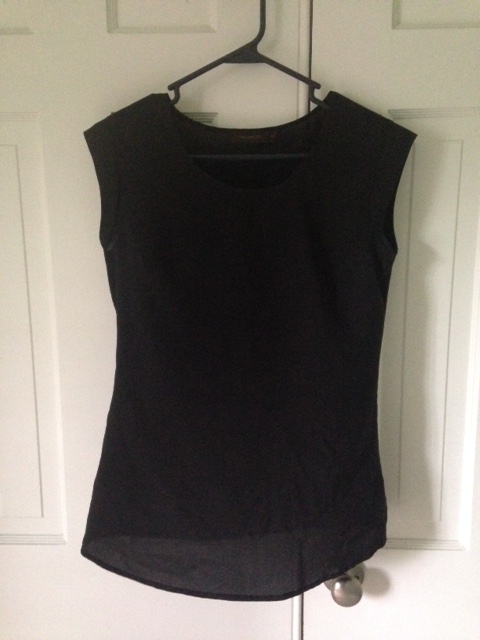 The Limited find!
I tried them on and was pleased that they both fit! And the price tags on each were exactly right: the gray top rang up at $7.99 and the black at $5.99. I can wear both under a blazer or as a top in it's own right. Both can double as work wear or as daily wear (though let's be honest, my daily wear is 100% work out gear.)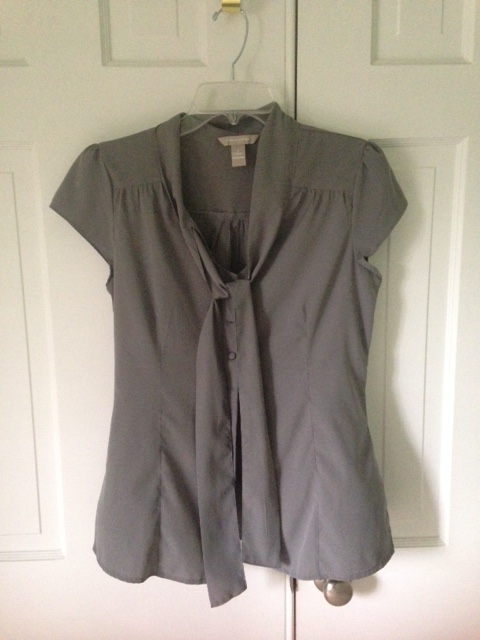 My Banana Republic find!
As someone who doesn't like shopping, Goodwill is kind of awesome. I love that you can find a variety of labels and styles there and that it's not just the latest craze things. Because I'm such a bad shopper, I often miss trends or need something super basic at times when malls might not be carrying it. Goodwill is a lifesaver in that capacity!
Of course, I also like the price tags at Goodwill. I am just not down with paying $100 for something. I also love the idea of decreasing my consumer footprint. There's tons of good quality clothing already made out there, just waiting at thrift stores for me. I don't need to buy new every time I need clothes. It's wasteful outside of just the monetary sense.
So, two tops down on my clothing journey! I still need a white button down but other than that, I'm feeling good on my summer wardrobe tops. Luckily summer in Austin extends through October, so I'll be getting a lot of use out of these tops!
(Visited 155 times, 1 visits today)

Kara Perez is the original founder of From Frugal To Free. She is a money expert, speaker and founder of Bravely Go, a feminist financial education company. Her work has been featured on NPR, Business Insider, Forbes, and Elite Daily.