South By SouthWest 2015 is in full swing here in Austin. The two week long festival is comprised of three distinct parts- Interactive, Music and Film. Interactive (the media and tech worlds meet sales and PR) kicked us off last Thursday and my-oh -my, has the town been busy.
SXSW is a huge event for Austin. People and companies come from all over the world to our little taco-loving town and the increase in city revenue is enormous. The financial impact across the city is astounding: from hotel or personal room rentals to cab prices to food vendors to venue owners to simple things like gas sales, Austin gets a big boost during this festival. Of course, all these things cost money too, and require things like streets being closed to car traffic, city permits needed, health inspectors needed, etc. It's a big to do with big results!
SXSW is a different kind of catering beast too. All the events are fast paced and almost none feature a full meal- it's all stationary appetizers or buffets. You just feed as many people as you can and then break down and move onto the next event. People work two or three events in one day. It's a rigorous and punishing schedule to keep up for two weeks.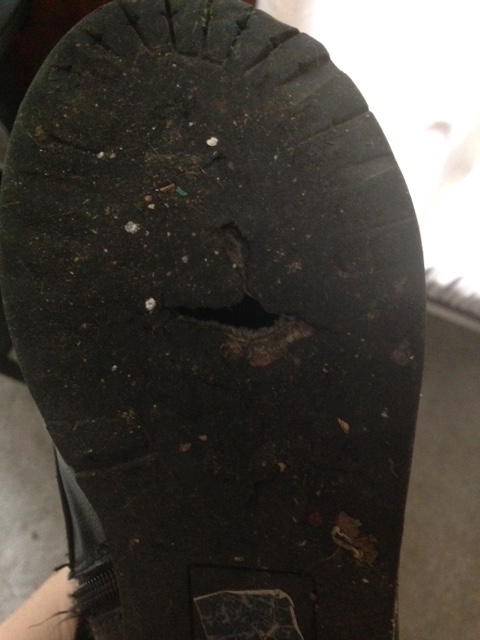 I literally walked holes in my shoes.
I am trying my best to take advantage of my own personal financial opportunities here during SXSW. My catering company is booked out the wazoo and my high school is on spring break- the perfect combination of free time opening up and work opportunities abounding.
I catered 11 hours Friday, 10.5 hours Saturday and 7.5 hours Sunday. I catered 5 hours last night and have  7.5 hours scheduled for Wednesday and 7.5 hours Thursday. All while still doing  my nonprofit job, my social media job and my writing job throughout the week. There will be a LOT of work and almost nothing else. I'm not taking in any shows or movies or attending events in a non work capacity.
I'm basking in my day off today and catching up on my other job responsibilities. Sitting down feels really good! I only have about 17 hours left of catering total. I'm really excited for this whole work extravaganza to be over and done with and to get my work check! After taxes I'm looking at around $650, a very nice sum that I will of course, be sending directly towards my loans. March is turning out to be a very good month for my loans and I'm excited to see where I come out at the end.
(Visited 121 times, 1 visits today)

Kara Perez is the original founder of From Frugal To Free. She is a money expert, speaker and founder of Bravely Go, a feminist financial education company. Her work has been featured on NPR, Business Insider, Forbes, and Elite Daily.