If you want to stay inspired to live frugally, then you need constant reminders and tips. Otherwise, it's just too easy to slip back into senseless spending. Plus, you can always learn to do things a little bit better, right? Here are the top frugal living books for you to read today:
Why Read Top Frugal Living Books
Here is why it's important to read top frugal living books on a steady basis:
You'll learn a lot of tips and hacks to improve your spending and saving.
Doing so keeps frugal living at the forefront of your mind. Therefore, you're more likely to stick with your goals.
It's inspirational to see how other people approach living frugally.
By spending more time reading, you may spend less money on other forms of entertainment.
It refocuses you on your goals for frugal living.
The books often give you something to talk about. They may also provide ways to talk about frugal living with others.
It's interesting and fun!
Top 10 Frugal Living Books That You Should Read Today
There are a lot of top frugal living books out there. In fact, you'll find books in a lot of crossover categories including books on minimalism, living an eco-friendly lifestyle, simple living, and so forth. However, if you want to get started with the basics, here are the top frugal living books you need to read:
1. 
The Ultimate Guide to Frugal Living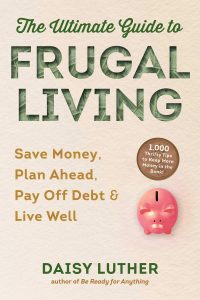 2020 brought us a terrific new title in frugal living books. The Ultimate Guide to Frugal Living by Daisy Luther provides detailed information about how to "Save Money, Plan Ahead, Pay Off Debt & Live Well." The book's theme is learning how to live joyfully without spending a lot of money. This means implementing specific tips as well as expanding your self-knowledge for better living.
2. The Complete Frugal Living Bible A to Z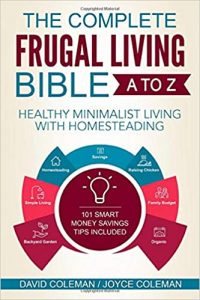 If the title alone doesn't tell you enough about this book, then look to the subtitle: "Learn How to Cut Everyday Expenses in Half and Live within Your Means." Authors David and Joyce Coleman share their own experiences learning how to reduce expenses. They use this experience to provide solid, actionable tips on reducing your grocery bill, utilities, and other household expenses. You can go down the checklist one by one and save a lot of money task by task.
3.  Little House Living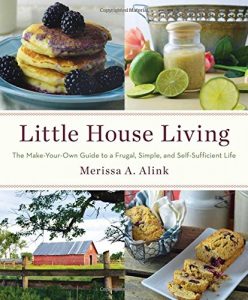 You might think the title of this book makes it about Tiny Homes. However, author Merissa A. Alink was actually inspired by Little House on the Prairie. This book is all about taking that kind of simplicity and bringing it into the modern world.
If the aspect of frugal living that interests you most is cooking, creating, and DIY, then you'll find the recipes and writing in this book to be a revelation.
4. The Art of Frugal Hedonism
The Art of Frugal Hedonism's subtitle is, "A guide to spending less while enjoying everything more." That's a terrific philosophy. The big difference between minimalism and frugal living is that the former is focused on having less stuff while the latter is about saving money.
What is great about minimalism is that the emphasis is really on having a higher quality of life through conscious consumerism. This book's approach incorporates that concept into frugal living.
My favorite tip from this book is to "indulge your curiosity." Specifically, the authors emphasize that "knowledge can function in lieu of material goods." In other words, deeply embrace learning things for free and you won't feel like spending money to get a dopamine hit.
5. Meet the Frugalwoods

This book's subtitle is, "Achieving financial independence through simple living." However, Meet the Frugalwoods isn't just about simple living. It really is about frugality.
The book is a memoir by Elizabeth Willard Thames, a popular blogger who shared her journey to achieve the dream of retiring early. Her family did this primarily through drastically cutting their spending.
One of my favorite parts of this book is that she begins the introduction by acknowledging her own privilege. Her way of frugal living won't work for everyone. However, it's interesting to learn about how it worked for her.
6. How to Manage Your Money When You Don't Have Any

Speaking of privilege, How to Manage Your Money When You Don't Have Any really speaks to an understanding that many people don't have excess money to worry about. They are worried about making ends meet. They are living month-to-month. It's a situation that makes people feel out of control.
This book shows that you can still gain control of your finances despite this situation. The author addresses how quick fixes, like credit cards, are designed to make you feel better in the moment. However, if you adopt a frugal living perspective, you can live below your means, even if your means are already low.
7. The American Frugal Housewife

The American Frugal Housewife was written in the early nineteenth century. Therefore, a lot of what you'll find here isn't practical for today. However, you will find a wealth of inspiration. Plus you'll get a fun look back at history.
Plus there are some timeless tips for smart cooking. If you're looking for a total guide to living frugally, this isn't that. However, if you are interested in the history and possibilities of this way of life then don't neglect to read this one.
8. The Homemade Housewife

The Homemade Housewife is one of the frugal living books that updates the Americal Frugal Housewife for the 21st century. The book provides recipes and tips for saving money around the house. Moreover, it addresses contemporary issues such as living on a military salary or as a one-income family.
In addition to basic tips, you'll find advice for buying a home and other advanced aspects of frugal living. This book's subtitle is, "The last book you will ever need on homemaking and frugal living."
9. Habit Stacking for Frugal Living

What you do each day is what you do with your life. If you develop good frugal living habits then you will find yourself living frugally. Habit Stacking for Frugal Living is all about establishing those habits. It is subtitled, "50 simple life changing tips to save money, get out of debt, and live a happy life."
Do note that this is available only as an ebook.
10. Meal Planning on a Budget

The subtitle for Meal Planning on a Budget is, "Save money on groceries, master meal prep, and reduce food waste to reach financial freedom." Groceries take up a big chunk of the budget. In fact, people often spend ten percent or more of their income on groceries. If you can learn how to live frugally when it comes to food then you can save a lot of money over time.
Remember that if you spend a lot of money on frugal living books then you aren't living frugally. Use your library and get discounts where you can.
What are your top frugal living books? Share them with us in the comments below.
Read More:
(Visited 507 times, 1 visits today)
Kathryn Vercillo is a professional writer who loves to live a balanced life. She appreciates a good work-life balance. She enjoys balance in her relationships and has worked hard to learn how to balance her finances to allow for a balanced life overall. Although she's only blonde some of the time, she's always striving for total balance. She's excited to share what she's learned with you and to discover more together along the way.